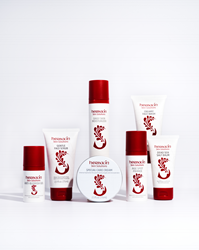 We are excited to release our new Skin Solutions line to combat skin challenges that in some cases are triggered by stress and genetic predispositions, but also by an imbalanced lifestyle and diet, hormonal or environmental influences.
DALLAS (PRWEB) February 14, 2023
Herbacin, the European beauty company, maker of botanically-based skin care products, announced today the introduction of its NEW Skin Solutions Series available in the US on Valentine's Day. Formulated to address various skin challenges such as blemishes, pigmentation marks, pimples, dry and cracked skin, age spots, and very dry and flaky skin. People of all ages and skin types will find a formula to target skin issues related to life stages and lifestyles.
The Skin Solutions Series includes seven products: Creamy Face Wash, Gentle Face Scrub, and Daily Skin Moisturizer. The specialty products include Age Spot Primer, Dead Sea Salt Balm, Anti-Blemish Gel, and Special Care Cream.
1. Creamy Face Wash – This plant-based, all-skin types and gentle cleansing cream provides deep cleansing for the face, neck and décolleté, ensuring a clean feeling without drying out the skin.
2. Gentle Face Scrub – This face scrub, obtained from hardened natural jojoba wax, removes dead skin cells and cleanses the skin down to the pores. The skin immediately radiates healthy freshness and feels velvety soft.
3. Daily Skin Moisturizer – With its hydro booster made of hyaluronic acid, myo-inositol and fucose bipolymer, the quick-absorbing care formula provides all skin types with moisture for up to 24 hours. It leaves it feeling silky, soft, and soothing. The convenient airless pump dispenses the product without having to touch or contaminate it.
These specialty products tackle skin issues you may be dealing with:
4. Age Spot Primer – This skincare cream reduces pigmentation spots and is designed for all those who indulge in sunbathing, those with age spots, etc. Langsat tree extract works to help reduce pigmentation spots and dependably prevent the formation of new ones.
5. Dead Sea Salt Balm – Characterized by the high level of minerals and trace elements from the salt of the Dead Sea, this intensive care balm has a particularly beneficial effect on skin conditions such as reddened and heavily stressed skin. The minerals stimulate the skin's metabolism, soothe itching, and calm even flaky skin.
6. Anti-Blemish Gel – Those who suffer from skin impurities and blemishes, this easy-to-dose gel containing aloe vera, camomile and marigold, along with the active ingredients of pantheon and bisabolol, is anti-inflammatory and promotes skin regeneration.
7. Special Care Cream – Formulated for all skin types with any areas of the skin that need special attention, such as elbows, feet, and hands, this cream protects and nourishes without leaving a greasy film behind.
The gender neutral product line includes tried-and-tested combinations of aloe vera, camomile blossoms, and marigold extracts which have anti-inflammatory and antibacterial effects promoting skin regeneration. The exception is the Dead Sea Salt Balm, which features the renowned Sea Salt from the Dead Sea. All products are vegan, have no paraben mineral oil, or artificial colorings, and are dermatologically tested.
Stephan Thien, Managing Director of Herbacin USA commented, "True to our heritage and traditions, we are excited to release our new Skin Solutions line to combat skin challenges that in some cases are triggered by stress and genetic predispositions, but also by an imbalanced lifestyle and diet, hormonal or environmental influences."
For additional information on Herbacin, visit https://herbacinusa.com, or for samples of the new Skin Solutions Series products, please contact Lisa Guay at mailto:lisa@adinnyc.com [lisa@adinnyc.com __title__ null] or 239.770.6505.
About Herbacin
Founded in the heart of Germany in 1905, Herbacin created a very distinctive brand early on that still has its roots in nature. Cultivating its own plants and herbs for decades, the entire Herbacin line goes through dermatological testing at the company's facility in Wutha-Farnroda, Germany. This European botanically-based skin, hair and body care line is highly regarded for its commitment to product excellence and integrity. The full line includes: Herbacin Hand, Body and Lip Balms, The Wellness Line, Facial Care, Intensive Moisture, Shampoos and Shower Gels, Foot Care, and the Camouflage Men's Line. Herbacin products are kind to your skin and the environment. Herbacin is strictly against animal testing and unnecessary chemical additives. Produced locally, selecting fruits, essential oils, butter, spices or herbs, including from organic cultivation within the local region, together with all of the packaging 100 percent recyclable.
###