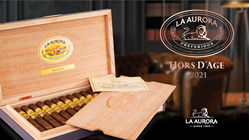 SANTIAGO DE LOS CABALLEROS, Dominican Republic (PRWEB) February 17, 2023
La Aurora USA, LLC, announces the release of La Aurora Preferidos Hors d'Age 2021 LE. After a two-year wait, this limited-edition release is back. The Hors d'Age line first debuted in 2018, with follow-up vintages released in 2019 and 2020. The 2021 offering is 6x54 Toro that is composed of an Ecuadorian wrapper paired with an Ecuadorian binder and long-filler leaves from the Dominican Republic, Colombia, and Nicaragua. It is yet another testament to the world-class tobacco and craftsmanship that La Aurora is known for. Hors d'Age 2021 LE will be formally available for presell to retailers at the TPE 2023 trade show in Las Vegas February 22-24. The La Aurora Hors d'Age 2021 LE will be available in dress boxes of 15. This limited-edition and collectible cigar release will only be available in 700 boxes and is expected to sell out. The cigar is expected to hit retail in March (MSRP: $30).
"The New Dawn of La Aurora has arrived, and to mark the beginning of this new dawn and our 120th Anniversary, we're proud to bring you the limited release La Aurora Preferidos Hors d'Age 2021 LE," said Ed McKenna, CEO of La Aurora USA, LLC. "La Aurora is the Dominican Republic's Original and Oldest Cigar and has set the standard for premium cigars for 120 years."
Hors d'Age 2021 LE is a well-balanced, vintage blend masterpiece with an ultra-smooth medium-to-full bodied smoke. It is always a special occasion when extra-aged tobaccos come together. Grown, aged and meticulously crafted over a period of 12 years, each cigar is handmade at the La Aurora S.A. factory in the Dominican Republic. The result of an investment in time, Hors d'Age 2021's complex blend becomes a harmonized beauty filled with spicy notes complemented by delicate flavors.
"La Aurora Preferidos Hors D'Age is a well-balanced blend with a unique start for an extra-aged cigar. Spicy notes of black pepper spark to life as more delicate flavors approach from the background. While the presence of wood is evident throughout the entire smoke, it is enriched by nuances of cinnamon, nuts, and even citrus in the finish," shares Master Blender, Manuel Inoa. "Its aromatic, rich, and creamy white smoke is characterized by its delicate touches of roasted coffee that prove to be the height of a demanding smoke."
Experience the definition of a handcrafted Dominican cigar by delighting in a first taste of this limited, well-balanced blend at TPE 2023 at the Las Vegas Convention Center from February 22-24. Find La Aurora at Booth 2017 to learn more about La Aurora Preferidos Hors d'Age 2021 LE and be one of the first to savor the notes of this year's blend.
About La Aurora Cigars
Founded by Eduardo León Jimenes in 1903, La Aurora continues his legendary legacy today with award-winning offerings of distinctive handcrafted cigars. From the original Perferidos to special anniversary and limited-editions blends that combine our masterful use of Dominican tobacco with tobaccos from around the world, La Aurora has become a favorite of critics and connoisseurs alike. To smoke La Aurora is to experience a piece of Dominican history.
Today, La Aurora spans the globe, bringing the distinct taste of the Dominican abroad to more than 80 countries and five continents. It continues to lead the industry through its commitment to excellence, expertise, and integrity. La Aurora believes an exceptional cigar is more than the sum of its parts. From the careful cultivation of seed and soil to the artisans who prepare the finest tobacco with exacting precision, La Aurora invites you to turn a moment into an occasion. For more information, visit https://www.laaurora.com/ and follow us on social @laauroracigarus (IG/FB/TW) or @LaAuroraCigarsOfficial (YouTube).