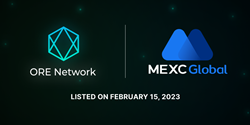 Listing on a second major exchange that supports 17 languages furthers ORE Network's foothold in the Web3 decentralized identity space, globally.
SAN FRANCISCO (PRWEB) February 16, 2023
The ORE Network, the protocol and blockchain purpose-built for powering privacy-protecting digital identity with easy login, has officially announced the ORE Token is now available on MEXC Global, one of the top centralized exchanges in the world. The listing took place at 10am UTC, with the initial trading pair ORE/USDT. This follows ORE's listing on Bitmart a few months ago, and ORE's listing on various decentralized exchanges.
Marc Blinder, ORE Network Core Contributor, shared "Listing on a second major exchange that supports 17 languages furthers ORE Network's foothold in the Web3 decentralized identity space, globally."
Key Facts about ORE
1. The utility token powers privacy-protecting digital identity: The ORE Token is the digital asset built for the purpose-built ORE blockchain and any solutions built on the ORE Network. Anyone using the ORE Network utilizes ORE Tokens to store data, such as their decentralized identity, on the blockchain. Anytime a business creates a new account on the ORE Network for its users, the business needs to utilize ORE Tokens. This is akin to renting servers in the cloud.The ORE network's utility token model provides the mechanisms required of any identity system to be truly decentralized. Its built-in business model creates an alternative to the typical centralized identity model where user data is monetized for gain. Instead, ORE puts the user in control of their identity credentials.
2. The cross-chain approach allows for accelerated growth: The ORE Network is powering high-growth tools solving web3's massive adoption challenge. ORE ID by AIKON allows users to tap into the benefits of many blockchains, including Ethereum, Algorand, Avalanche, Polygon, Telos, and WAX. After launching in 2018, ORE ID has been integrated into some of the industry's leading businesses and decentralized applications (dApps), including RFox, NFT Battle Miners, EarnFi, Exotopia, and more. ORE ID is used in 12 countries, with a host of new customers choosing ORE ID as their decentralized identity solution including two blockchains choosing it as their official cloud wallet.
3. Ethics are built into the code: The Open Right's Exchange protocol was designed with blockchain's original tenets of open access, transparency, and permissionless (removing middlemen) architecture. After a series of fraudulent companies stealing consumer assets and trust, it's more important than ever for web3 users to be in control of their digital assets and wallets. True decentralization and transparency removes the ability (and temptation) for single entities to manipulate or deceive users. View the ORE Token on CoinGecko.The ORE Token is available on MEXC Here.
About the Open Rights Exchange
Built by the Open Rights Foundation, in partnership with AIKON, the Open Rights Exchange is built to be simple to use and compatible with all chains. A single password — not a key — is provided as the entry to not just the Open Rights Exchange, but to all other chains including Ethereum, Avalanche, Algorand, Polygon, Telos, and WAX — with even more chains added every quarter.
Website | Twitter | Discord | Telegram | GitHub | LinkedIn
About MEXC
GlobalFounded in 2018, MEXC Global is a centralized exchange that employs a high-performance mega-transaction matching technology.