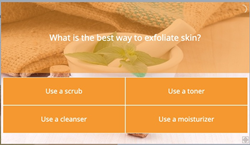 Our new ChatGPT integration will be a game-changer for anyone looking to create quizzes. Whether you're a teacher, marketer, or just a quiz lover, Fyrebox offers a powerful new tool to help you create quizzes in seconds with artificial intelligence, engage your audience, and drive results.
MELBOURNE, Australia (PRWEB) February 16, 2023
Fyrebox, the leading online quiz maker, has announced a new integration with ChatGPT, the AI-powered language model developed by OpenAI. With this new feature, Fyrebox users can create quizzes from just a few words, using ChatGPT's ability to generate questions and answers.
ChatGPT, a state-of-the-art language model trained on a massive corpus of text data, understands natural language and generates accurate and relevant responses. Integrating ChatGPT into Fyrebox enables users to create quizzes quickly and easily without requiring extensive research or writing.
Fyrebox Founder, Cyril Gaillard, tested ChatGPT and was impressed by its capabilities. He quickly realized that it would be a perfect addition for its customers and said, "a lot of our users know the topic of their quiz but have difficulty coming up with relevant questions and answers. ChatGPT solves this issue. Our users can now create quizzes in seconds rather than hours."
To use the new feature, Fyrebox clients need to enter a few keywords related to the topic of their quiz, such as a celebrity name or book title. ChatGPT will then generate questions and answers based on those keywords.
"We believe this new integration will be a game-changer for anyone looking to create quizzes quickly and easily," added Cyril. "Whether you're a teacher, marketer, or just someone who loves quizzes, Fyrebox now offers a powerful new tool that can help you engage your audience and drive results."
The integration will save considerable to time-poor teachers as the generative engine understands specific requests. When typing "STEM 6th Grade", Fyrebox will create five questions, with one correct and three incorrect answers for each, in less than 20 seconds, about the different scientific components.
E-commerce website owners can create competitions to generate leads and increase revenue in seconds by entering their industry in the ChatGPT prompt on their Fyrebox dashboard. Typing "skin care" makes a quiz about the correct steps for a beauty routine. The quiz owner can then export the participants and gives a coupon to the fastest one to pass.
This addition works perfectly with the Pixabay integration, which is already implemented on the website. Quiz creators can select a background image for their quiz within the 2.7 million images available without leaving the Fyrebox website.
In partnerships with major site builders such as Wix, BigCommerce, Weebly and Shopify, Fyrebox has over 150,000 active users, 20,000 quiz plays per day and is now available in 104 languages. The plug-in has swept through the digital space like wildfire, gathering worldwide attention from major companies and governments.
The integration is currently only available on the English version but will support all other languages in a few weeks.
Its bespoke user base and generous referral program, giving 30% of all sales generated by the affiliate, has convinced many bloggers and influencers to share the software's latest features.
Adjusting to a fast-evolving technological world, Fyrebox sees artificial intelligence as an opportunity rather than a threat. Website owners or teachers can harness AI's power to meet their needs and work more efficiently.
About Fyrebox
Fyrebox is a leading online quiz maker that makes it easy to create custom quizzes, surveys, and assessments. The platform offers a range of features and tools, including customizable designs, data analytics, and automatic synchronization with popular email marketing and CRM tools.
For more information about Fyrebox and its new integration with ChatGPT, visit the company's website at http://www.fyrebox.com.