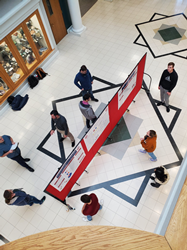 "These [dividers] were purchased in hopes of having a place to hold up student posters on presentation day. We plan to order more because they worked great, and we had an awesome experience!"
CHICAGO (PRWEB) February 21, 2023
Colleges and universities are finding new ways to enhance their campuses to expand various student programs and organizations. Studies have shown that students having a sense of belonging is the optimal environment for academic learning. For this reason, extracurriculars and career advancement programs continue to grow for current and future university students.
Administrators have been utilizing Screenflex portable room dividers as a means to maximize the use of their space for these programs. These movable partitions can create semi-private rooms that open up opportunities for smaller group conversations. Sectioning off one-on-one areas at career fairs, displaying signage, and overall space management are examples of how the freestanding walls are currently revamping their campus buildings.
Educators are finding that they can use these room dividers anywhere on campus, but one of the most adaptable communal spaces is the student union. As the standard centralized hub in a university, several activities can occur here at once. For instance, events and meetings regularly happen in the union's multipurpose rooms, cafeterias, libraries, or student workspaces.
Hanover College, in Indiana, purchased a Screenflex Room Divider in November of 2022. These educators wanted a device for showcasing student research projects in one of the above-listed communal campus spaces. The tackable fabric and portability of the partition were essential for accomplishing their goals. Hanover's contact, Debbie Quinn, said this about their Screenflex product:
"These [dividers] were purchased in hopes of having a place to hold up student posters on presentation day. We plan to order more because they worked great, and we had an awesome experience!"
By using durable room dividers, university educators can adapt their facilities and continue to expand their ever-changing communities.
To learn more about Screenflex products for your university, visit their website at https://www.screenflex.com/.