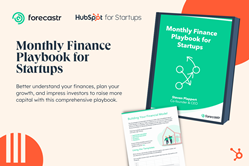 "It's not ideal for early-stage startups to set goals or measure performance on an annual or semi-annual basis. Conditions can change really quickly, and you need to have current data to make the best decisions."
LOUISVILLE, Ky. (PRWEB) February 16, 2023
HubSpot for Startups is an innovative program that allows entrepreneurs to access HubSpot's advanced marketing tools at deep discounts in the early stages of their business. The popular program also provides valuable resources to help founders succeed in every area of business, from marketing to hiring, as well as finance.
Finance is critically important in a startup's early stages, although many founders lack the financial expertise to successfully navigate this challenge. Online financial modeling company Forecastr is hoping to help startups in the HubSpot community by providing a simple Monthly Playbook that gives founders a clear path to achieve what Forecastr CEO Steven Plappert refers to as "financial hygiene."
According to Plappert, "Finance is a difficult topic for most founders. Sometimes we expect every entrepreneur to be a finance expert, but in reality, most of them are experts in something else, like designing software, importing and exporting, or finding new ways to recycle waste. We've found that most founders view finance as something they have to do, not something they want to do."
"I wrote this Monthly Finance Playbook to help other founders start measuring their financial performance against their goals on a regular basis. It's not ideal for early-stage startups to set goals or measure performance on an annual or semi-annual basis. Conditions can change really quickly, and you need to have current data to make the best decisions. We help our customers do this by practicing what we call 'good financial hygiene,' and following a Monthly Playbook like this is how we do it."
The Playbook features a simple 6-step process founders can complete every month to ensure their business is on track to hit its goals and to respond quickly when an area of the business veers off course. According to Plappert, "This is the exact same process we use internally at Forecastr, and our clients who practice this type of good financial hygiene on a regular basis have seen really impressive results."
Forecastr's Monthly Finance Playbook is available at no charge via HubSpot for Startups at https://offers.hubspot.com/startups/monthly-finance-playbook.
About Forecastr
Forecastr gives founders an accurate and convenient online financial model that helps them confidently forecast all aspects of their financial plans. A great financial model takes the frustration out of fundraising, empowering founders to do what they do best: build and sell. The company aims to create a world where founders are prepared for anything and sleep well at night.
Forecastr. Forecast with confidence.
Contact Forecastr
Website | Address: 841 E Washington St, Louisville, KY 40206