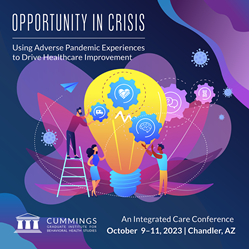 TEMPE, Ariz. (PRWEB) February 20, 2023
Cummings Graduate Institute for Behavioral Health Studies (CGI) is immensely proud to host the 2023 Integrated Care Conference taking place October 9-11, 2023, at the Gila River Resorts – Wild Horse Pass & Conference Center in Chandler, Arizona. The 2023 CGI Integrated Care Conference theme is Opportunity in Crisis - Using Adverse Pandemic Experiences to Drive Healthcare Improvement. Conference registration will open in May 2023.The 2023 Integrated Care Conference is designed for multidisciplinary healthcare professionals, leaders, researchers, clinicians, community health workers, caregivers, and other stakeholders who are engaged in healthcare design, delivery, and improvement. From vulnerable populations to policy and payment reform - the CGI community drives for better outcomes. We anticipate over 300 attendees from across the US and the globe participating in the conference.
Who should attend:
● Doctors of Behavioral Health (DBHs)
● DBH students and students in healthcare-related fields
● Faculty and subject matter experts
● Integrated care researchers & emerging professionals
● Mental health & social work professionals
● Community health workers
● Nursing professionals
● Physicians and specialists
● Administrative and executive leaders
● Care managers
● Public health professionals
● Health policy advocates
● Patient health & wellness advocates
● Quality improvement professionals
At this time, the conference is accepting presentation and poster proposals. Due to the diversity of integrated care professionals, CGI welcomes presentations with scientific data, clinical innovations, community-designed projects, policy and governance partnerships, and entrepreneurial proposals.​​ The deadline for submissions is April 10, 2023.
To learn more about how to submit a presentation or poster presentation, visit: https://bit.ly/CGIconfprescall Sponsorship opportunities are available. Sponsors of the conference can increase their brand awareness with attendees through sponsorship packages.
To explore sponsorship options for the 2023 Integrated Care Conference, visit: https://bit.ly/CGIconfsponsor
About Cummings Graduate Institute for Behavioral Health Studies (CGI)Cummings Graduate Institute for Behavioral Health Studies is a nonprofit, DEAC accredited, online post-graduate institution of higher learning offering post-graduate education and training in the field of integrated behavioral healthcare. CGI is focused on meeting the healthcare industry's need for a highly-skilled workforce to support an integrated approach to addressing patients' needs.
For further information or to arrange interviews, contact:
Cummings Graduate Institute for Behavioral Health Studies
Melissa McGurgan
melissa@cgi.edu