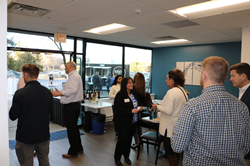 HORSHAM, Pa. (PRWEB) February 16, 2023
Sanborn, Head & Associates, Inc. (Sanborn Head), a full-service consulting science and engineering firm, announced today the relocation and expansion of its Philadelphia area office from Fort Washington, PA to a new location at 755 Business Center Drive in Horsham, PA. The company serves private, public, and institutional clients throughout the United States in the development, energy, environmental, and solid waste markets.
Sanborn Head has established a solid footprint in the Mid-Atlantic region over the past five years. As a result of the firm's continued growth, company executives determined additional space was required to ensure the Philadelphia team could continue delivering the same high-quality services that its clients have come to expect when looking for creative, cost-effective solutions.
According to President and CEO Barret Cole, PG, LEP, "This move reflects our ongoing and intentional growth strategy to better serve our Mid-Atlantic clients who value our highly collaborative and responsive approach. It is an ideal location where we can better facilitate our business operations and support our professional growth, both internally and externally."
In fact, this is the second time the company has had to move to a larger location since opening their original Philadelphia area office in 2019. "The new Horsham office location has undergone renovations to create a beautiful, yet highly functional space that promotes collaboration and staff engagement for a hybrid workforce," said Senior Vice President Colleen Costello, PG. "It was designed with the company culture in mind, focusing on collaborative problem solving for our clients in a flexible, supportive work environment."
You can reach the new Philadelphia area office of Sanborn, Head & Associates, Inc. at 610.984.1720 or by email at philadelphia@sanbornhead.com.