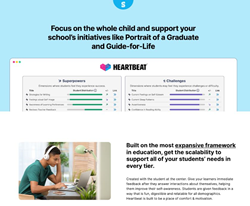 "Heartbeat is making positive changes for kids across the country." said Shmoop's COO, Mike Soldan.
LEHI, Utah (PRWEB) February 17, 2023
Shmoop is pleased to announce that its innovative research-backed tool, Shmoop Heartbeat, has won the Secondary Education Award of Excellence from Tech & Learning. Heartbeat identifies how deeply the non-academic factors of a student's life affect their academic performance.
"We're so proud of the continual recognition that Heartbeat gets from leading sources. With well over a half-million student interactions engaged in its first two years of existence, Heartbeat is making positive changes for kids across the country," said Shmoop's COO, Mike Soldan.
Tech & Learning's awards recognize the very best products in the EdTech industry from the last 12 months, selecting those that provide valuable support to education professionals, students, and/or teachers. An expert panel of judges evaluated Heartbeat's feature set, innovation, value, and usability, deeming it a standout in the industry.
"Each year the Awards of Excellence grow to include a more diverse range of products and companies. With this being the case, judging and finding our winners becomes a tougher decision with each award. All of our judging is performed by industry experts, meaning those who have impressed and won the award should be truly proud of their achievement. Well done from all of Tech & Learning," said Christine Weiser, content director for Tech & Learning, in a statement announcing the winners.
Since its release in early 2021, Heartbeat by Shmoop has received the formidable Learner Variability Certification from Digital Promise, an EdTech Award from EdTech Digest in the "Cool Tool" category, and a coveted W3 Award. Shmoop was also recognized by Learnosity as a "trailblazer in the social and emotional learning (SEL) space," selected as a finalist for the ASU GSV Cup Competition, highlighted at ASU GSV 2021 and was most recently a finalist for District Administration's Top Ed Tech Award, 2023.
About Shmoop
Shmoop provides schools with online courses, test readiness, and intervention solutions focused on personalized learning and college and career readiness, all designed for students and used by teachers for both in-person and remote learning. Shmoop's research-based classroom technology, Heartbeat™, focuses on a student's emotional health, cognitive position, and background to improve their ability to achieve academically (http://www.shmoop.com).