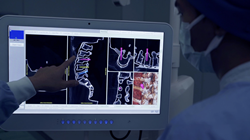 The WatchTower Spine Navigation and Robotics System eliminates the need for intraoperative CT imagery. This offers exceptional procedural efficiency, radiation safety, and cost-effective navigation…
JUPITER, Fla. (PRWEB) February 20, 2023
Captiva Spine is a medical device organization located in Jupiter, Florida, dedicated to delivering smart, elegant, and intuitive spinal fusion solutions. Today Captiva Spine announced the expansion of its management team to accelerate the roll-out of its WatchTower Spine Navigation and Robotic System. Daniel McPhillips has joined Captiva Spine as the Director of Enabling Technologies and Market Development.
"Dan will be a great asset to the roll-out of the WatchTower Spine Navigation and Robotics System," said Dale Mitchell, President of Captiva Spine. "Dan has been at the forefront of numerous technological inflection points in the spine market going back to the first MIS pedicle screw systems and cage IDE/PMAs. His most recent experience focused on innovations in percutaneous interbody fusion."
The WatchTower Spine Navigation System promises to provide surgeons with a next-generation navigation and robotics system for the Ambulatory Surgery Center (ASC) and specialty hospital. WatchTower Spine Navigation eliminates the need for inter-operative CT imagery. This offers exceptional procedural efficiency, radiation safety, and a cost-effective navigation solution for these new service sites. The spine navigation system has received 510(k) clearance from the FDA (U.S. Food and Drug Administration) and is available for commercial use.
"Spinal fusion procedures have become less invasive and post-operative significantly more effective, making same-day lumbar fusion surgery a reality," said Dan McPhillips. "This, along with the recent changes in the CMS in-patient-only list, makes ASC MIS spinal fusion a real opportunity for surgeons and patients. I am excited to join Captiva because the WatchTower Spine Navigation and Robotics System offer advanced spine navigation capabilities yet are economically practical for the ASC setting."
Vertical Integration at Captiva Spine
"At Captiva Spine, we always strive to provide smart, elegant, and intuitive spinal solutions, but more than that, we are working to provide a solid vertically integrated procedural platform," said Dale Mitchell. The WatchTower System is a synergistic addition to support our newest generation TowerLOX-EXT MIS Extended Tab Pedicle Screw System and TransFasten Posterior SI Joint Fusion System."
TowerLOX-EXT is the next-generation extended tab MIS screw system from Captiva Spine. It affords the surgeon the state-of-the-art MIS extended tab design they expect with significantly more reduction and spinal re-alignment utility than other systems on the market.
The TransFasten Posterior SI Fusion System is a unique approach to posterior MIS sacroiliac joint fusions, offering increased efficiency while reducing the invasiveness of traditional sacroiliac joint fusions. The system's patented carpentry has been developed to ensure ease of use, immediate stabilization of the motion segment, and an optimal environment for fusion. Experience the benefits of TransFasten for yourself and discover how our innovative system may help achieve the results patients are looking for.
__________
To take advantage of Captiva Spine's innovative technologies and incorporate them into your healthcare offerings, please don't hesitate to reach out to us. We welcome inquiries from healthcare providers, surgical facilities, and distribution professionals. To get in touch with us directly, please email our team at info@captivaspine.com
See More Details
About Captiva Spine, Inc.
Captiva Spine, founded in 2007, is a privately owned medical device company that brings healthcare providers, distribution professionals, and surgical facilities together with innovative spinal care solutions. With a focus on quality, Captiva Spine strives to build and maintain sincere, honest, and collaborative relationships to earn mutual trust and openness. By doing so, we aim to become the preferred provider of smart, elegant, and intuitive spine care solutions.