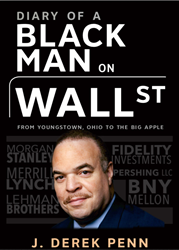 Derek Penn states "I wrote the book to inspire young people entering the corporate world, as well as those in mid-career dealing with obstacles, to enlighten the majority about racism in the workplace and society and, lastly, to inform the reader about the inner-workings of Wall Street."
PITTSBURGH (PRWEB) February 21, 2023
J. Derek Penn's inspirational new memoir, Diary of a Black Man on Wall Street: From Youngstown, Ohio to the Big Apple, weaves a narrative of hope and perseverance for anyone who has faced obstacles in their own lives. Penn's story of determination is peppered with his own racial struggles and triumphs, from his childhood in gritty Youngstown, Ohio, to his acceptance at Duke University, where he excelled as standout linebacker for the Blue Devils, to his acceptance into Duke's prestigious Fuqua School of Business, and his eventual 34-year success as a financial investor and banker at Wall Street's leading trading firms.
"I wrote the book for three reasons: to inspire, enlighten and inform," says Penn. "I want to inspire young people entering the corporate world, as well as those in mid-career dealing with obstacles. Secondly, to enlighten the majority about racism in the workplace and society. And, lastly, to inform the reader about the inner-workings of Wall Street."
Even though Penn travelled around the world, where he met and advised top corporate CEOs, racial inequities still shadowed him during his professional and personal journeys. But while racism may have stymied a lesser man, those injustices only served to strengthen Penn's resolve to develop a thicker skin to deflect those slurs and sights and become a successful businessman, author, and motivational speaker.
"I learned how to be comfortable by being uncomfortable," says Penn. "I tried to allow my expertise, confidence, and leadership skills to diminish or eliminate negativity. I also didn't accept any nonsense. Nor did I let any disrespect go without some sort of response, whether that response was spoken or conveyed with a mere gesture."
For many years, very few black businesspersons held leadership roles on Wall Street, especially when Penn started his career in the 1980s. His expert knowledge and management skills guided many clients toward financial success, including firms such as Morgan Stanley, Merrill Lynch, Lehman Brothers, Fidelity Investments, Pershing LLC, and BYNY Mellon.
Penn had to make tough personal decisions throughout his career, but he never faltered in trusting his business instincts. His leadership skills were put to the test during the fallout after 911, when he lost good friends, and his office was uprooted during the destruction of Tower One at the World Financial Center. Undeterred, Penn pushed on, helping to rebuild his department and steer his company back on the road to financial success.
Penn's book provides insights into how race in American pervades both the workplace and the social space daily. At one client meeting, Penn was asked, "So how did you get to be the head guy? Prior to today, I haven't seen a black man in a position of such huge responsibility." Always direct, yet aware of how to handle racism overtones in a professional atmosphere, Penn calmly replied, "You ever heard of a man called Barrack Obama?" Penn also relates how he was once mistaken for a terrorist at an airport—a constant reminder of the inequities and inequalities that persist in the world.
Still, Penn's book leaves the reader with hope for future progress. "I would hope that my story, in print and in person, enlightens individuals to better understand the life and struggles that a person of color must endure on a daily basis," he says.
Penn hopes that Diary of a Black Man on Wall Street will educate the reader about what it's like to experience oppression as a black American. At the same time, he hopes that his book will inspire people of all ethnicities to persevere in whatever endeavor they are pursing.
Diary of a Black Man on Wall Street: From Youngstown, Ohio to the Big Apple, is available at Amazon.com and on his web site http://www.diaryofablackmanonwallstreet.com