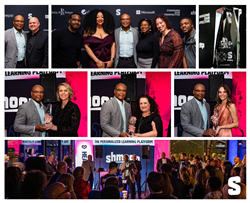 "It was so special to witness the educators we work with receiving the 'Tackling The Education Gap' award from Mike Singletary," said Shmoop's CEO, Andy Rahden.
SCOTTSDALE, Ariz. (PRWEB) February 23, 2023
Changing Our Perspective, a non-profit founded by former NFL coach Mike Singletary, recently recognized educators making a difference in their students' lives by addressing the connection between mental health and academics.
The event took place at the headquarters for Shmoop, an EdTech company that partners with Changing Our Perspective to identify how non-academic factors of a student's life affect their ability to perform academically using its research-backed tool, Shmoop Heartbeat. Microsoft, Rehrig, and Pepsi were co-sponsors of this special event.
"The event was an amazing success, and it was so special to witness the educators we work with receiving the 'Tackling The Education Gap' award from Mike Singletary as a result of implementing solutions Shmoop has worked for years to develop," said Shmoop's CEO, Andy Rahden.
In addition to Singletary, notable attendees included Senator Tim Scott, Reggie Jackson, Paul Kruger, Darrell Booker from Microsoft, a team from Rehrig, special guests from PepsiCo, and the team at Shmoop, as well as local politicians and education professionals from around the country. Shmoop is also thankful to Tony Finau for his involvement in this special event.
"Tackling The Education Gap" Award recipients included:

Julianne Reynoso, Assistant Superintendent, Pasadena USD
Denay Taylor, CCMR Coordinator, Garland ISD
Christie Huseman, AVID and IB Coordinator, Humble ISD
Richard Couder, Director of High School Academics, Ysleta ISD
Sam Brooks, Supervisor of Personalized Learning, Putnam County School System (PCSSTN)
After receiving an invitation to the event and researching Shmoop's commitment to innovative education solutions, U.S. Secretary of Education Miguel Cardona's team invited Rahden and his team to continue discussing the company's approach later this year.
"I am eager to continue these important conversations with Secretary Cardona and his team," said Rahden. "Shmoop and Changing Our Perspective look forward to continuing to deliver impactful solutions to students across the country, and we plan to hold this educator recognition ceremony annually."
Since its release in early 2021, Heartbeat by Shmoop has received the formidable Learner Variability Certification from Digital Promise, an EdTech Award from EdTech Digest in the "Cool Tool" category, and a coveted W3 Award. Shmoop was also recognized by Learnosity as a "trailblazer in the social and emotional learning (SEL) space," selected as a finalist for the ASU GSV Cup Competition, highlighted at ASU GSV 2021. Most recently, the Shmoop Heartbeat was a finalist for District Administration's Top Ed Tech Award, 2023 and winner of Tech & Learning's "Best of 2022" Award of Excellence in the secondary education category.
About Shmoop:
Shmoop provides schools with online courses, test readiness, and intervention solutions focused on personalized learning and college and career readiness, all designed for students and used by teachers for in-person and remote education. Shmoop's research-based classroom technology, Heartbeat™, focuses on a student's emotional health, cognitive position, and background to improve their ability to achieve academically.
Shmoop works with schools across the nation and is viewed by more than six million students per month. Heartbeat™ has captured millions of student responses over the last few years. To learn about Shmoop's comprehensive offerings for your school or district, visit: http://www.shmoop.com/schools-districts
About Changing Our Perspective:
For more information about how to be part of the solution with Changing Our Perspective, visit https://changingourperspective.org/