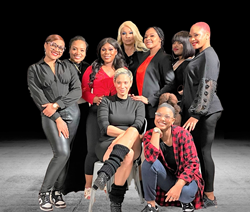 "We recognized there was a clear need for underrepresented individuals in this space... Not only is this the first time in Image Awards history that Costume Design, Make-Up & Hair will be recognized, but this is our first craft-centric pipeline program to nourish new talent into this field."
LOS ANGELES (PRWEB) February 23, 2023
The Handy Foundation has joined forces with the NAACP to expand its apprenticeship program, this time creating an entry point for BIPOC hair and makeup artists interested in working in production. The Handy Foundation x NAACP Glam Squad Training Program launched this month, and has selected nine individuals to participate in a 7-week program. At the program's completion, one or more participants will have an opportunity to work as a production assistant in the hair and makeup department on set with one of the Handy Foundation's production partners.
After reviewing hundreds of applications, the foundation's panel of expert partners conducted nearly 30 pre-interviews before selecting the inaugural Glam Squad Training Program cohort. The 2023 participants are Harmoni Clawson, Imani Esdaile, Sheenira Frye, Ar'tavia Harris, Shamone "Sky" Harris, Tyla Hicks, Magnolia Lowe, Sherry Owens, and Sasha Smith-DeLoach. The chosen cohort has a variety of career and life experiences, but what they all share is a desire to grow their careers in the film and television industries.
In addition to receiving specialized training, the NAACP Glam Squad Training cohort will be given the chance to meet and learn from established Hollywood professionals through a series of guest speakers and industry mixers. The NAACP Glam Squad Trainees will make their professional debut during Image Awards week, by displaying their talents at Makeup Pop-Up Bars at the 54th NAACP Image Awards Dinner and VIP Watch Party. Robin Harrison, Vice President of the NAACP Hollywood Bureau, who is overseeing the 54th Image Awards said, "we recognized there was a clear need for underrepresented individuals in this space and wanted to remediate. Not only is this the first time in Image Awards history that Costume Design, Make-Up & Hair will be recognized, but this is our first craft-centric pipeline program to nourish new talent into this field."
Ri-Karlo Handy, founder of the Handy Foundation, added, "we are proud and excited to have welcomed the NAACP, an organization with such a storied legacy of advocacy, as our latest partner. The 54th Image Awards' inclusion of below-the-line professionals in hair and makeup is a sign that others within the industry see the importance of highlighting the incredible work that people of color are already doing. This recognition, along with our partnership can only help support our ultimate mission of creating more access points for up-and-coming talent to enter this arena."
The Handy Foundation's first initiative - the Apprentice Editors Training program - has placed close to 100 first-time assistant and apprentice editors from underrepresented communities on television shows such as Snowpiercer, BMF, Acapulco, The Bachelor, America's Got Talent, American Gangster: Trap Queens, Selena + Chef and the recently released feature film Valet, to name a few. To date, the foundation has partnered with organizations such as Lionsgate, ITV, IPC, Warner Horizon, Bunim-Murray, Netflix, Urban League, California Department of Education, the California Film Commission, and most recently, NAACP.
ABOUT THE HANDY FOUNDATION
The Handy Foundation was established by veteran film and television executive Ri-Karlo Handy in 2020. Handy's journey as an equity advocate began after sparking a viral debate regarding the need for more Black editors in Hollywood in the wake of the Black Lives Matter protests. The Foundation's mission is to connect below-the-line workers to job opportunities in Hollywood, providing training and professional development while helping production companies, studios and networks meet diversity and inclusion goals. Below-the-line workers - editors, camera operators, make-up artists, grips and lighting crews - make up the majority of Hollywood's workforce. Unfortunately representation and opportunities for professionals from communities of color in this industry falls woefully short of the national average. The Handy Foundation's training programs aim to one day provide pathways for all film and television crafts, and is one of several ways in which the organization is working to impact this lack of diversity. The Handy Foundation also manages a database of available below-the-line workers, and works through that resource to connect studios and networks to a wider talent base. In addition, the non-profit's website offers aspiring production talent a library of resources that can support their goals as they continue to establish themselves within the industry.
To learn more, please visit handyfoundation.org.
ABOUT NAACP
Founded in 1909 in response to the ongoing violence against Black people around the country, the NAACP (National Association for the Advancement of Colored People) is the largest and most pre-eminent civil rights organization in the nation. We have over 2,200 units and branches across the nation, along with well over 2M activists. Our mission is to secure the political, educational, social, and economic equality of rights in order to eliminate race-based discrimination and ensure the health and well-being of all persons. NOTE: The Legal Defense Fund – also referred to as the NAACP-LDF – was founded in 1940 as a part of the NAACP, but separated in 1957 to become a completely separate entity. It is recognized as the nation's first civil and human rights law organization and shares our commitment to equal rights.
To learn more, please visit naacp.org.