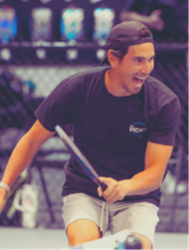 "Pickleball is a thrilling sport and growing very fast, the time to invest is now," said Tyler Loong, a Top 5 Men's Doubles Professional Pickleball Player
SALT LAKE CITY (PRWEB) February 21, 2023
The Picklr, a Utah based indoor pickleball facility with 7 existing locations in Utah and Colorado, announced today its national franchise program to strategically and rapidly expand its premier pickleball sports complexes.
The Picklr's franchise program will provide entrepreneurs with the opportunity to own their own indoor pickleball facility. The Picklr will offer extensive training, support and equipment to create the highest level of pickleball sports experience nationwide.
The Picklr offers an all-inclusive pickleball experience: top-of-the-line indoor pickleball courts with a pro shop, classes, expert instructors for all levels of play, family focused events, and tournaments for the full range of casual, serious, and professional pickleball players.
"We are excited to be adding indoor facility infrastructure to the fastest growing sport in America with The Picklr franchise program," said CEO Jorge Barragan. "Pickleball is exploding across the country – and we expect Picklr to be in over 100+ communities with 800+ indoor courts over the next three years."
According to the 2023 APP Pickleball Participation Report, 36+ million Americans played pickleball in 2022.
The Picklr provides an attractive, turnkey franchise model including:

Support for site selection, lease negotiations, financing options and building multiple revenue streams
Combining pickleball programs with technology
Partnerships with top pickleball brands in the world such as: DUPR, MLP, Minor League Pickleball, Joola and professional players nationwide
"Pickleball is a thrilling sport and growing very fast, the time to invest is now," said Tyler Loong, a Top 5 Men's Doubles Professional Pickleball Player. Loong, a partner and spokesperson for The Picklr, is "excited to be part of the team bringing The Picklr across the United States.""We are energized to bring The Picklr to more and more locations," said Barragan. "We understand the opportunity before us to combine business ownership with the passion of pickleball."
For information regarding The Picklr's franchise opportunities, visit http://www.thepicklr.com/franchise
For information regarding The Picklr, visit http://www.thepicklr.com
###
About The Picklr
The Picklr, the nation's premier indoor pickleball operation, has launched its franchise program to address the rapidly growing demand for full service indoor facilities across the country. The Picklr is the indoor court market leader for pickleball, the fastest growing sport in the nation with 36 million players in 2022 (APP Pickleball Participation Report). Pickleball is a paddle sport that combines elements of badminton, tennis, and table tennis. The Picklr is a fully integrated pickleball company. In addition to its 6 locations in Utah and 1 in Colorado, The Picklr has 2 e-commerce businesses, The Picklr Shop (http://www.thepicklrshop.com) and Stack Athletics (website to be launched Spring of 2023). The Picklr is also a strategic partner of Major League Pickleball (http://www.majorleaguepickleball.net).
Instagram: https://www.instagram.com/thepicklr/
Facebook: https://www.facebook.com/ThePicklr