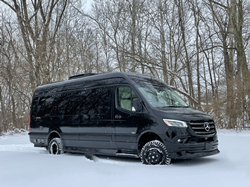 "Vehicles converted by Auto Elite are unique because they always embody the Mercedes Slogan: The Best or Nothing," said Auto Elite Founder Andrew Zarubin.
ELKHART, Ind. (PRWEB) February 23, 2023
Auto Elite, the oldest dealer and partner of Midwest Automotive Designs, announced today the launch of its new website and its proprietary Eco Evolution and Eco Revolution, the most luxurious and technologically advanced Mercedes-Benz Sprinter Van Conversions in the world.
The company's product line sets a new standard for Luxury Conversion Vans and RVs, offering the largest selection of floorplans, features, amenities, and accessories to create a traveling experience like no other. Auto Elite works in-person with Midwest Automotive Designs and other manufacturers in Elkhart Indiana, the RV Capital of the World, to provide the best Luxury Conversion Vans and RVs at the best price.
Built on top of the fully optioned Luxe Cruiser, the Eco Evolution and Eco Revolution are the most luxurious vehicles Midwest Automotive Designs has ever manufactured. Using Roof Mounted Solar Panels and Lithium-Ion Batteries, the Eco Evolution and Eco Revolution allow all amenities, heat, and air conditioning to function without the engine being turned on. Standard features include heat and massage in all captain chairs, power footrests, premium insulation, an amplified internal and external sound system with subwoofer, a four-season bathroom, and external 110V outlets that allow the vehicle to be used as a power source for external equipment. This gives business partners, family, friends, pets, campers, and van lifers in need of a good night's rest the very best experience in both hot and cold climates.
New and Quality Pre-owned Luxury Conversion Vans, such as the Eco Revolution, the Road Jet, and the Transformer, are only sold through Auto Elite and its affiliates. Customers are also able to choose from any of Midwest Automotive Designs Conversion Vans, Auto Elite Specialty Vans, or Personalized Custom Coaches, which are designed and built unique to one client. In-stock and build-to-order vehicles are sold factory direct or through Auto Elite's Mercedes Benz Dealership Partners.
Auto Elite is proud to offer the highest level of customization and service in the industry. Vehicles can be personalized based on floor plan, interior and exterior finishes, lighting, amenities, and audio and visual entertainment systems. Mobility lifts, armoring, and other specialty accessories can also be added upon request. The company's sales associates are veterans in the Conversion Van Industry and are capable at identifying the perfect vehicle based on customer needs. They also assist in financing and explaining how clients can take a tax write off on their purchase.
The Mercedes Benz Sprinter Conversion Van has long been recognized as the ideal vehicle for business trips, family vacations, or exploring the outdoors. "Vehicles converted by Auto Elite are unique because they always embody the Mercedes Slogan: The Best or Nothing," said Auto Elite Founder Andrew Zarubin. "Our goal is to offer our clients the highest level of luxury, function, and comfort. Our partnership with Midwest Automotive Designs and the releases of our proprietary Eco Evolution, Eco Revolution, and Auto Elite Specialty Vans are a testament to that fact."
###