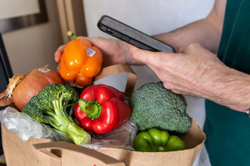 "On average, our technology has locked in 1 million weekly active users, 2.5 million coupons clipped per week, and $120k in-app weekly payments. It's an inspiring time to be building with the grocery industry." -Alex Otanez CEO at Shockoe
RICHMOND, Va. (PRWEB) February 27, 2023
Shockoe will speak about mobile and immersive technologies that are driving up tens of millions of dollars at the upcoming National Grocers Association event in Las Vegas. This shift to immersive technology is a significant move for grocers across the united states and is quickly becoming recession-proof.
"Our grocery solutions speak for themselves," says Alex Otanez CEO at Shockoe. "On average, our technology has locked in 1 million weekly active users, 2.5 million coupons clipped per week, and $120k weekly in-app payments. It's a very exciting time to build with the grocery industry.
"Otanez will focus on three key areas where the Shockoe team has seen the most effective and lucrative approach to immersive technology for grocers: - Immersive Product Search: enabling visibility into product details such as allergens or promos without touching a product in the store.

In-store wayfinding: Turning your grocery locations into a Google Maps-like experience.
Augmented Reality to quickly assess the health benefits of products
Virtual Reality for employee training and planogram and floor planning
Real-Time in-stock inventory checks: Know what's available and where without having customers search around the store.
Touchless in-store payments: Scan items while shopping and process payment without waiting in line.
To talk with Alex and learn how Shockoe has transformed shopping into a meaningful, immersive, and convenient experience, click here to reserve a spot at the event or visit booth #1846 at Ceasars Forum Convention Center.
"Online Shopping grocery leaders are reevaluating the in-store product discovery process," says Otanez. "This means personalized results built on Ai to create an easier shopping process, helping your brand stand out and keeping customers happy.
"Building out solutions like this doesn't have to be a drain on your internal team, reach out to see how Shockoe can help.