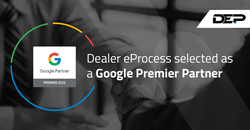 "We are overjoyed to have earned Google Premier Partner status," said Joe Gillespie, Dealer eProcess CEO.
LISLE, Ill. (PRWEB) February 27, 2023
Dealer eProcess is proud to have earned an elite honor in automotive digital marketing by being recognized as a 2023 Google Premier Partner. This status is given to the top 3% of Google partners in the United States and reflects the dedication and marketing proficiency that the DEP Digital Marketing team provides to dealers on their Google Advertising campaigns.
Dealer eProcess has been a part of the Google Partners Program for several years, which is the first qualification to become considered as a Premier Partner. In order to achieve and maintain Partner status, Dealer eProcess Google Ads have to pass requirements within three categories: Performance, Spend, and Certification.
Premier Partner requirements are far more stringent and involve being in the top 3% of participating companies within a given country. Each year Google reviews the overall performance of their partners based on factors that can include but are not limited to: Existing Client Growth, New Client Growth, Client Retention, Production Diversification, and Annual Ads Spend. Premier Partners have access to the widest range of program benefits that Google offers allowing them to utilize product betas and insights briefing, direct access to Google engineers, and tap into the executive experience of Google leaders as well as other Premier Partners.
The Google Partners Team adds, "Achieving Premier Partner status is an accomplishment worth celebrating and distinguishes [Dealer eProcess] as a Google Ads expert to clients and the industry. We greatly value the strategic partnership we've developed with [Dealer eProcess] and we're thrilled to share Premier Partner benefits designed to help drive growth and success."
"We are overjoyed to have earned Google Premier Partner status," said Joe Gillespie, Dealer eProcess CEO. "This incredible achievement reflects our longstanding commitment to providing exceptional digital marketing solutions and we are excited about the opportunities it will bring to our dealer clients for even greater success."
Currently Dealer eProcess provides a full suite of award-winning services and performance-driven digital marketing solutions, including Google advertising and DMS attribution. They are also OEM certified digital advertising providers for Acura, Alfa Romeo, BMW, Buick, Cadillac, Chevrolet, Chrysler, Dodge, Fiat, GMC, Honda, Jaguar, Jeep, Kia, Land Rover, Mazda, Mazda (Parts and Service), Mitsubishi, Ram, Subaru, Toyota (Parts and Service), and Volkswagen. The Dealer eProcess digital marketing team focuses on combining their distinct expertise with a unique blend of data and automation and unmatched client care to help dealerships efficiently achieve their marketing goals.
About Dealer eProcess
Dealer eProcess is a comprehensive website and digital marketing solution for automotive dealerships. They are known for their track record of customer care and innovative tools to help their clients dominate their market. Dealer eProcess has won dozens of awards and has been recognized within the industry for their cutting-edge technology. You can learn more about Dealer eProcess and their strategy-focused digital marketing options on their website: http://www.dealereprocess.com.
For the most up-to-date news, follow Dealer eProcess on LinkedIn, Facebook, and Instagram.