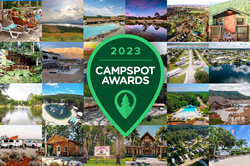 The Campspot Awards not only provide an important opportunity to recognize those campgrounds owners, operators, and staff who strive to provide special camping experiences to their guests, but they also serve as inspiration for the many travelers looking to book their spring and summer trips now.
GRAND RAPIDS, Mich. (PRWEB) February 28, 2023
Today, Campspot revealed the winners of its second annual Campspot Awards to recognize the best campgrounds across the U.S. and Canada. Ranging across 12 traveler-driven categories, these award-winning destinations offer something for every kind of outdoor enthusiast, including RV resorts, family campgrounds, tent sites, cabins, glamping options and more.
To identify its winners, Campspot first combed through more than 70,000 data points including bookings, reviews, and category-specific factors to identify a shortlist of nominees. They then asked the camping community to weigh in, inviting the public to vote on their favorite campgrounds in America and partnering with camping experts to score and select the winners in the remaining categories based on uniqueness, listing completion, and overall appeal.
"The 2023 Campspot Awards are a celebration of everything that makes the camping industry so awesome. They not only provide an important opportunity to recognize those campgrounds owners, operators, and staff who strive to provide special camping experiences to their guests, but they also serve as inspiration for the many travelers looking to book their spring and summer trips now," said Erin Stender, CMO of Campspot. "We purposefully created new categories this year that make it easy to find the right spot for you, whether you're already a full-timer, or just discovering the many options available to campers today."
Campspot's 2023 "Best Campgrounds in America" are:
#1 - Indian River RV Resort (Indian River, MI)

Within close proximity to Michigan's famous lakes, walking trails, and vacation hotspot Mackinac Island, this campground offers log cabins, RV and tent sites with a unique, rustic charm on a shaded, manicured property.
#2 - On the Saco Family Campground (Brownfield, ME)

This campground is located on a beautiful property with 1700 feet of Saco River frontage, offering pet-friendly RV sites and riverfront tent sites as well as convenient on-site amenities and plentiful river activities.
#3 - The Nugget RV Resort (Saint Regis, MT)

Surrounded by beautiful mountain ranges and the Clark Fork and St. Regis Rivers of Montana, this park is in a natural wonderland that makes the perfect homebase for fishing, biking, or photography enthusiasts, with cozy cabins, RV sites, a dog park, general store and more on offer.
#4 - Otahki Lake (Patterson, MO)

Located in the heart of the Missouri Ozarks, this 1200-acre park features a 23-acre lake with beach and 2 miles of river frontage, ideal for rafting and float trips. Stay in deluxe cabins with hot tubs, unique covered Wagons, glamping tents, and many more options.
#5 - Stonebridge RV Resort (Maggie Valley, NC)

This campground has everything you need for a family-friendly getaway in the Great Smoky Mountains, complete with on-site arcade, live music, playground, sport facilities, dog park, and more.
#6 - Dark Sky RV Campground (Kanab, UT)

The perfect place for a Utah adventure with close access to Zion National Park, Bryce Canyon National Park, and others, this design-forward campground offers luxurious amenities, including private bath suites, outdoor showers, open terrace lounge, meditative areas, a dog park, kids zip line and more.
#7 - Pecan Park (Jacksonville, FL)

For travelers looking for stunning views, beautiful weather and a friendly atmosphere, this pet-friendly campground offers that and more, including a fully-stocked fishing lake, a pool area, colorful cottages, as well as nearby beaches and attractions.
#8 - Kootenai River Campground (Troy, MT)

Offering both quiet tent sites and charming cabins, this campground provides a secluded escape in stunning Montana surroundings with riverfront access and a variety of nearby activities including fishing, hiking, backpacking, kayaking, OHV trails, and more.
#9 - Okefenokee Pastimes Cabins and Campground (Folkston, GA)

This lush campground makes it easy to indulge your hobbies, with a hummingbird and butterfly pollinator area, fish feeding area, off-leash dog park, communal fire-pit and bar, and even a dedicated astronomy field to enjoy the famous dark skies of the area.
#10 - Jellystone Park: Memphis (Horn Lake, MS)

Just 5 miles from Memphis, Tennessee, this park sprawls across 21 acres with 170 sites and a variety of amenities and activities for guests of all ages, like weekly themed weekends, a waterpark, pedal cart, shuffleboard, an outdoor theater, bike rentals, and much more.
The complete list of award winners can be viewed here across the following categories:

Best Campgrounds in Canada
Best RV Campgrounds
Best Tent Campgrounds
Best Glamping Campgrounds
Best Campgrounds for Spontaneous Campers
Best Campgrounds for Families
Best Campgrounds for Couples
Best Campgrounds for National Park Lovers
Best Campgrounds for Weekenders
Best Campgrounds for Pet Lovers
Best Campgrounds for 55+ Adventurers
Visit the Campspot Awards pagehttps://www.campspot.com/about/campspot-awards to view and explore all 65 winning campgrounds, and to pick your favorites to visit this summer.
About Campspot
Campspot is the leading software provider and online marketplace for RV resorts, family campgrounds, cabins, glamping options, and more, providing access to more than 200,000 campsites across the United States and Canada. Campspot provides an intuitive, easy-to-navigate guest booking experience that returns relevant and easy-to-modify searches, making planning a vacation seamless. For campground customers, Campspot's real-time, cloud-based management solution enables a best-in-class reservation system by giving its customers a POS system and the necessary management tools to provide the best possible user experience.