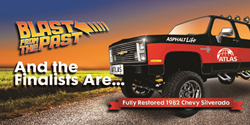 ATLANTA (PRWEB) February 28, 2023
Atlas Roofing Corporation is excited to announce the 10 finalists in its Asphalt Life Truck Giveaway!
As part of the company's 40th anniversary celebration in 2022, contractors were able to earn points throughout the year that qualified them for a chance to win a fully refurbished 1982 Chevy Silverado pickup truck, which features custom black leather seats with red-embroidered Atlas logos, a roll bar with KC Lights, and a brand-new Bluetooth stereo.
Points were awarded to contractors for registering Atlas warranties, attending Atlas-sponsored events, reaching AtlasPRO+ and PRO+ Select status(es), interacting with Atlas on social media, creating homeowner testimonials, and purchasing EagleView or HailTrace reports via the AtlasPRO Portal.
Once all the points were tallied, the 10 contractors with the highest totals were notified that they are finalists and will receive a 3-day/2-night all-expenses-paid trip to Dallas, TX, for the 2023 International Roofing Expo (IRE), which runs Tuesday, March 7, through Thursday, March 9.
The 10 finalists are:

Gerald Klemm/Jeffrey Rosier – G. Klemm Roofing (Geneva, IL)
Robert & Nina Wormley – Wormley Roofing (Apopka, FL)
Robert & Kaitlin Schlueter – American Windows and Roofing (Blue Ash, OH)
Mike Allen/James Cox – Allen & Sons Enterprises (Hamilton, OH)
Susan Chrostowski/Michael Molthan – In Motion Construction (Aloma, FL)
Vaughan Blehl/Francesco Caporale – Northkit Contracting (Cedar Grove, NJ)
Nico Soave/Marissa Garcia – Greater Midwest Exteriors (Shorewood, IL)
Randy Parish – Parish Roofing Solutions (Allen, TX)
Sondra & Don Davis – All Things Roofing & Restoration (Colorado Springs, CO)
Doug Meckley – Triple R Roofing (Littlestown, PA)
The truck giveaway is scheduled for 3 p.m. on Wednesday, March 8, at Booth 5904 (aka the "Atlas Lodge"), where one of these lucky roofers win the 1982 Chevy Silverado K-20 pickup via a "Price Is Right"-style game.
The Atlas booth will also feature new products and other "Price Is Right"-themed games with a lot more prizes up for grabs!
Atlas would like to congratulate all the finalists and extend its appreciation for all the contractors who participated in the points process for the Asphalt Life truck giveaway.
About Atlas Roofing Corporation
Atlas is an innovative, customer-oriented provider of asphalt shingles, roof underlayments, rigid expanded polystyrene and polyiso insulation, geofoam, cold chain, protective packaging, lost foam, and cutting-edge coated and paper facers and underlayments for a diverse set of markets. Atlas has grown from a single asphalt shingle manufacturing facility to 36 facilities in North America with worldwide product distribution. Products from the company's four major divisions, Polyiso Roof & Wall Insulation, Shingle & Underlayment, Molded Products, and Web Technologies, are manufactured in state-of-the-art facilities and shipped from its network of manufacturing plants and distribution facilities in the United States, Canada and Mexico.
For more information about Atlas Roofing Corporation, please visit AtlasRoofing.com.