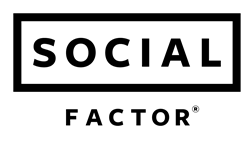 "Digital platforms offer tremendous benefits of scale, but our company's success has shown that their real opportunities are found in creating more connections between people."
FORT WORTH, Texas (PRWEB) February 28, 2023
Social Factor, a leading digital agency specializing in social media operations and community management, is proud to announce that Inc. magazine has named it to the fourth annual Inc. 5000 Regionals Southwest list, the most prestigious ranking of the fastest-growing private companies based in Arizona, New Mexico, Oklahoma, and Texas. Part of the annual Inc. 5000 franchise, this regional list represents a unique look at the most successful companies within the Southwest economy's most dynamic segment—its independent small businesses.
"It's an honor to have our company rank on a prestigious list like Inc.'s this year." Scott Parker, CEO of Social Factor, said. "We've seen how our work helping brands turn their digital chaos into human connection transforms the impact of clients such as Google, LinkedIn, St Jude's Children's Research Hospital and Toyota. Digital platforms offer tremendous benefits of scale, but our company's success has shown that their real opportunities are found in creating more connections between people."
The companies on this list, part of the annual Inc. 5000 franchise, show a remarkable rate of growth across all industries in the Southwest region. Between 2019 and 2021, these 165 private companies had an average growth rate of 557 percent and, in 2021 alone, they added 16,116 jobs and nearly $5.5 billion to the Southwest region's economy. Companies based in metro Austin, Texas; Scottsdale, Arizona; and Fort Worth, Texas—Social Factor's home base—had the highest growth rates overall.
Complete results of the Inc. 5000 Regionals Southwest, including company profiles and an interactive database that can be sorted by industry, metro area, or other criteria, can be found at inc.com/southwest starting today.
"This year's Inc. 5000 Regional winners represent one of the most exceptional and exciting lists of America's off-the-charts growth companies," Scott Omelianuk, editor-in-chief of Inc. magazine, said. "They're disruptors and job creators, and all delivered an outsized impact on the economy. Remember their names and follow their lead. These are the companies you'll be hearing about for years to come."
As a social media enablement agency, Social Factor specializes in the crucial, yet often overlooked operational elements of enterprise social media marketing. Having more than a decade of experience partnering with Fortune 500 companies, as well as Gartner and Forrester leader platforms in social marketing, Social Factor is able to manage critical areas that empower enterprise clients, for profits and nonprofits alike, to create valuable social media spaces. .
For more information about how Social Factor can help your business, go to socialfactor.com.