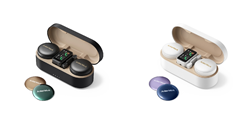 BELLEVUE, Wash. (PRWEB) February 28, 2023
AnkerWork, developer of unique audio and video solutions that support creators and enhance the hybrid workplace, today announced the AnkerWork M650, an ultra-compact wireless microphone that delivers extraordinary audio quality, would be available starting today for pre-order. The AnkerWork M650 was designed to be used by both mobile creators as well as those that use action cameras, mirrorless or DSLR cameras.
"The DNA of the AnkerWork brand is focused on bringing professional audio and video quality to the masses," said Frank Zhu, AnkerWork General Manager. "The AnkerWork M650 will be our first ultra-compact, wireless microphone to launch globally and we are confident this stylish and powerful solution will spark people to create fresh content and share new perspectives."
Exceptional Audio Quality, Clarity and Flexibility
The AnkerWork M650 features VoiceShield™ noise reduction technology as well as TrueLink™ wireless technology with the LC3Plus transmission codec to ensure the audience can hear the content creator's voice with optimized volume and clarity over longer distances. VoiceShield™ accurately eliminates external noise, precisely identifies the content creator's voice, and offers three levels of noise reduction (strong, weak or normal which turns it off). TrueLink™ enables the microphone to pick up sound from more than 650 feet away (line-of-sight) with no drop off in signal strength or quality via the 2.4 GHz connection between transceiver and receiver.
Additionally, as a backup, the M650 allows users to record a local copy of the audio in the transceiver with 4GB of built-in EMMC storage, for up to 7 hours of recordings in the event that there is wireless interference between the transceiver and receiver. Once the transceivers are placed back into the case and it is connected to a computer, this local audio file can be downloaded from the app and inserted into a video in post-production as needed.
The AnkerWork M650 offers users the ability to output digital audio from the transceiver to a computer at 24-bit/48 kHz using the included USB-C to USB-C cable or to a digital camera using the included 3.5mm audio cable. However, for mobile phone users, audio can also be transferred directly using the included USB-C and Lightning adapters stored in the charging case.
The transceivers, can be set to output a stereo signal, with each unit only recording on one side of the audio track (Left or Right), and allowing each voice to be edited independently and then merged in post production. Alternatively, and by default, the audio of one or both units can be output as a single, mono audio recording combined into one track.
Easy-To-Use, Durable Design
The AnkerMake M650's all-in-one design is easy to use, store, charge, and pair automatically. The AnkerWork M650 is designed to connect to smartphones, cameras, tablets, and computers. Included in the charging case, the M650 includes both Lightning and USB-C adapters with twist locking connections for seamless smartphone integration and instant audio capture on the go. Additionally, for those creators that prefer a more minimal integration, both transceivers in the M650 allow for a 3rd party lavalier microphone to be added.
Featuring a high-resolution LCD touch screen, from input/output settings, to other various operations, the AnkerWork M650 offers users convenient access to adjust all audio settings in real-time with one-touch control.
Thanks to the dual function magnetic back clip, content creators can wear the AnkerMake M650 while performing most activities without worrying about it falling off. Also included in the package is a furry wind cover to help prevent wind noise from being picked up. For convenience, the M650 transceivers can be muted locally using a side-mounted button with a red LED indicator. However, for single person creators, this can be done remotely from the receiver as well.
Using the AnkerWork app, available for both Windows or MacOS, creators can customize the sound, recording and settings even more. This includes a five-band EQ, low-pass filter (75 / 150 Hz / Off), customizable backlight duration and Safe Mode which will record a backup audio track at -6dB gain to ensure users have a usable recording in case of a sudden loud noise causing clipping. This feature can also be enabled directly from the interface on the receiver.
Long-Lasting Battery Life & Stylish Covers
The charging case keeps the microphone powered up and ready to use whenever creative inspiration strikes. The built-in battery keeps the AnkerMake M650 running for up to 15 hours.
The pocket-sized AnkerWork M650 comes with a set of 3 replaceable covers in a variety of colors to match content creators' outfits and style. Made from precision aluminum alloy with IMD technology to prevent fingerprints and offer creators' an attractive addition to their audio arsenals.
Price & Availability
The AnkerWork M650 is available for purchase on March 14 on Amazon.com and Ankerwork.com. In the U.S., the AnkerWork M650 will sell for $249.99; in the U.K. for £249.99; and in Germany for €269.99.
About AnkerWork
AnkerWork develops unique audio and video solutions to support creators and enhance the hybrid workplace. This includes speakerphones, headsets, microphones, video solutions and more. Additional information can be found at ankerwork.com
About Anker Innovations
Anker Innovations is a global leader in charging technology and a developer of unique, consumer electronic products that support premium audio, mobile entertainment and the emerging smart home space. This innovation is being led by its six key brands: Anker, AnkerWork, eufy, Nebula, soundcore and AnkerMake. More information on Anker Innovations and its various brands can be found at anker.com.
PR Contact
Connie Liu, PR Manager, AnkerWork/AnkerMake
connie.liu@anker.com
For sample requests, images and spec sheets, Click Here