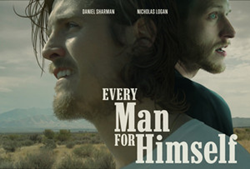 "The title suggests that we're on our own in this hard world," says Gardner " but this movie shows that we might be better off when we show up and help one another."
SAN JOSE, Calif. (PRWEB) February 28, 2023
Today, Gary Gardner Film proudly announced "Every Man For Himself," a neo-western featuring rising star Daniel Sharman in the lead role. Written and directed by Gary Gardner, produced by Gary Gardner Film, Sankara Pictures, and Cutter Entertainment, the world premiere of the film is set to take place at the 2023 Cinequest Film Festival March 1st - 12th.
Shot on location in the iconic American West landscapes of Utah, Nevada, Idaho, Montana and Wyoming, featuring "Every Man For Himself" is a gripping drama that follows the story of two ex-convicts seeking redemption and second chances as they travel the desolate landscape. The film features stunning cinematography by acclaimed cinematographer, Igor Kropotov. The film also boasts a soundtrack of contemporary country, rock, and blues artists that include Cedric Burnside, Natural Child, Joshua Ray Walker, Bones of JR Jones, and more.
Gardner, known for his elevated approach to style and story, wrote the film to explore universal themes of redemption and change as it related to the human journey. "The title suggests that we're on our own in this hard world," says Gardner " but this movie shows that we might be better off when we show up and help one another."
Daniel Sharman, who is best known for his roles in "Teen Wolf" and "Fear the Walking Dead," and is set to star as Kelly on SkyTV's new series "A Town Called Malice", is joined by actor Nicholas Logan ("I Care Alot", "Dopesick"). "It was such a deeply fulfilling artistic experience. One I missed and still do" he said. "I look forward to you all seeing it. A lot of love went into it."
Gardner burst onto the scene in 2015 with his debut film, "The Nymphets," a provocative drama about a well-to-do 30-something year old man who invites two rowdy young girls to a party in his loft. The film was critically acclaimed and premiered at South by Southwest (SXSW), and has since been distributed globally.
The 2023 Cinequest Film Festival is a two part festival, of which the first part will take place from March 1st to March 12th virtually. Audience will get a chance to view the premiere of "Every Man For Himself" around the world, with a virtual Q&A with the cast and crew throughout the festival.
For more information about the Cinequest Film Festival, including ticket sales and schedules, visit http://www.cinequest.org.
For more information about the movie and to watch the trailer, please visit https://www.everymanforhimselfmovie.com/
About the Filmmakers
GARY GARDNER
Gary Gardner is an award-winning Film Director and Producer based in New York. His feature directorial debut, THE NYMPHETS, premiered at SXSW and has been distributed globally. Gardner has created advertising and editorial content for CKone, Jameson Irish Whiskey, Amazon, Interview Magazine, Christie's, Atlantic Records, GQ, and many more. Visit http://www.garygardnerfilm.com
MÓNICA-TEZLA SOLÍS VEGA-GÖRSÜN
Co-founder of Sankara Pictures and line and creative producer. Mónica mostly works in commercials, branded/ digital content, and narrative features. Costa Rica-born and North Carolina-raised, she now splits her time between New York and Istanbul.
SUZANNE LENZ
Producer, actress, and filmmaker based in Brooklyn, NY. Recently, she produced and starred in the films Christmas Eve Eve Or: The Things I Can't Remember (which she also wrote and directed) and Two Women on a Bridge. As an actress, she can be seen in Silicon Valley, Crashing, Obvious Child, and Ricki and the Flash. http://www.suzannelenz.net
HILLARY CUTTER
Founder of production house Cutter Productions, whose latest film project was the award-winning documentary The Remix: Hip Hop x Fashion. Hillary's previous clients include The Walt Disney Company, Universal, ABC, Sony, Under Armour, and Google (to name a few). She calls NYC home.
JASON SHAHINFAR
Director and producer whose work focuses on human connection. Jason's films have been screened internationally and distributed worldwide. He produced Gary Gardner's debut feature, The Nymphets. Jason is based in the Big Apple.