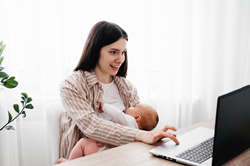 "Virtual lactation consultations can support the complex needs of OBGYNs and pediatricians by increasing patient satisfaction and reducing time spent addressing problems that can be prevented with care that's easy to access," said Amanda Gorman, CPNP, Chief Clinical Officer of Nest Collaborative.
FARMINGTON, Conn. (PRWEB) March 02, 2023
The health benefits of breastfeeding are well documented, but navigating the process can be challenging for parents. The normal ups and downs of the newborn phase are often complicated by social determinants of health such as race, education and transportation.
A new survey of 200 people who identified as females with children, sponsored by Nest Collaborative, reveals insights that could help traditional providers improve their breastfeeding resources for patients. Confirming that virtual meetings with lactation consultants are a popular means of overcoming barriers to breastfeeding, 64% of survey respondents said they used either exclusive telehealth consultations or a combination of both telehealth and in-person consultations. Thirty-seven percent consulted with breastfeeding experts only in person.
By a wide margin, respondents rated their experience with telehealth consultations "extremely satisfying" (46%) when compared with in-person consultations (30%). On the other end of the spectrum, 6 percent of respondents said their in-person consultations were "extremely unsatisfying" while not a single survey taker chose that answer for telehealth consults.
When asked to rank the importance of different types of breastfeeding support provided by pediatricians and OBGYNs, nearly all respondents selected "better education" (98%), more prenatal education (94%); "support that's easier to access" (90%); and "being more proactive to prevent problems before they arise" (87%) as "important" or "extremely important."
The survey reveals ways in which providers might improve their breastfeeding support, and delivers insight into consumers' telehealth preferences just in time for the annual gathering of industry leaders at the American Telemedicine Association's ATA2023 Annual Conference & Expo in San Antonio, March 4-6.
Nest Collaborative is a finalist for the ATA Innovator Award and will present their technology and recent findings from their growing base of partner organizations live onstage at the conference on March 4.
"As a clinician-led telehealth provider, we understand the unique needs of providers when it comes to breastfeeding support," said Amanda Gorman, CPNP, founder and Chief Clinical Officer of Nest Collaborative. "This survey and others highlight the popularity of telehealth among parents as a vital means of providing accessible, high quality lactation support. But virtual lactation consultations can also support the complex needs of OBGYNs and pediatricians in need of improved resources. These services can increase patient satisfaction as well as reduce time spent addressing breastfeeding problems that can be prevented with care that's easy to access."
Distance Cited Most Frequently as Reason for Using Telehealth
Most respondents who relied on their pediatricians or OBGYNs for breastfeeding advice complimented their services. When asked what was missing from the support they received, respondents called out a lack of "availability when they were needed" (25%) and respondents' desire for "access to a breastfeeding consultant who was nearby, available and who took the patients' insurance" (22%).
A majority of survey respondents (53%) said they used telehealth because of difficulties traveling to a physical location outside their home. Twenty-one percent of respondents said that in-office consultations were too far away; 12% said they lacked transportation to get to an in-office consultation; and 20% wanted to consult with an expert "without leaving home."
By contrast, the most common reason for not using telehealth was a desire for "hands-on training," cited by 60% of respondents who have not used telehealth. Lack of awareness about the availability of telehealth consultations (14%) and the absence of wifi or bandwidth to conduct telehealth (14%) were the other reasons most often cited.
Older Parents More Likely Than Younger to Prefer Telehealth
Among several demographic factors affecting respondents' breastfeeding support choices, age, race and ethnicity were the most powerful. Key findings regarding demographics and the method-of-choice for breastfeeding support include:

Contrary to numerous studies indicating that older adults are less likely to use telehealth than younger adults, survey respondents aged 45 to 54 were far more likely to use telehealth for consultations than women aged 18 to 24, by a margin of 78% to 44%. They were also more likely to rate their experience "extremely satisfying" (72%) than the younger women (43%).
Black women respondents were the least likely racial group to rely on their pediatrician or OBGYN for breastfeeding support, preferring other sources of support. They were also the most likely to see lactation consultants in-person, and to use a combination of in-person and telehealth consultations.
Hispanic women were the most likely group to exclusively use telehealth for breastfeeding support.
College graduates were more likely to exclusively use telehealth than those without a college education (22% vs 16%), slightly more likely to use a combination of telehealth and in-person consultations (34% vs 32%), but also twice as likely to rely solely on a physician for breastfeeding support (14% vs 7%).
See Nest Collaborative Demonstrated at ATA2023
Attendees at the ATA2023 Conference in San Antonio can experience the Nest Collaborative platform in the Startup Pavilion, booth #S-15.
About Nest Collaborative
Nest Collaborative, based in Farmington, Conn., is the creator of the nation's first virtual lactation platform. The company's nationwide network of lactation consultants is available to families for same-day virtual consults, meaning more parents and their health providers have access to the help that creates successful breastfeeding journeys. Nest Collaborative was recently nominated by the New England Venture Capital Association as Emerging Company of the Year. The company was also recognized by Verywell Family as the Best Online Lactation Consultant of 2021 and 2022, beating out competitors by offering insurance-covered appointments, same-day availability, and group sessions through their offering of Latch Lounge. The company earned first place in the 2022 Yale Innovation Summit's Tech and Digital Health Pitch Contest. For more information, visit: http://www.nestcollaborative.com.