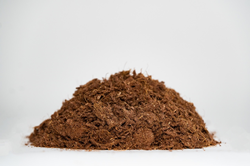 WELLINGTON, Fla. (PRWEB) March 07, 2023
ArenaMend is proud to be the first equestrian footing company offering sustainable, plastic-free solutions for arena and racetrack footing. Today the company announced the launch and creation of its brand-new product, Noviun. Noviun performance fiber creates a world-class riding surface in any environment and is the first and only plastic-free, nontoxic, natural fiber blend on the market today.
Through its collaboration with NFW, ArenaMend via Noviun will eliminate thousands of pounds of microplastic pollution from the ground, air, and watershed. With Noviun, energy efficiency is maximized by natural biopolymers that reduce concussion and provide natural rebound for horses. "Noviun offers a unique performance advantage over industry-standard waste polypropylene or synthetic tires. Our plastic-free, natural fiber blend gives sand surfaces both grip and absorption, providing confidence underfoot more like turf grass – horses' natural and preferred riding surface," said Dan Carr, Co-founder of ArenaMend. "The result is faster speeds, fewer injuries, and quicker recovery."
Determined to find a plastic-free solution for its footing business, ArenaMend conducted exhaustive outreach and research to companies globally to find the right fit. They chose to create Noviun with NFW - the only material science innovator able to make high-performance alternatives to plastics and synthetics. Together, they developed the first plastic-free solution for equestrian sand surfaces.
"Partnering with ArenaMend allows NFW to directly replace existing synthetic materials with more natural options, the core of our company mission. Repurposing our material off-takes and recycled materials as equestrian performance fiber will displace thousands of pounds of microplastic ground contamination," said Steve Zika, President of NFW. "We are excited about this partnership and providing a climate-friendly, plastic-free option to this industry."
Noviun is suitable for all sand types and environments and can be applied at a range of concentrations to meet the needs of every discipline. Noviun is available now. For more information visit ArenaMend.com
About ArenaMend
ArenaMend is the world's first arena footing company developing first-in-class surface solutions with plastic-free, natural materials. In an industry saturated with synthetic, petroleum-based surface materials, ArenaMend is pioneering premium solutions that eliminate microplastic contamination while delivering customizable performance characteristics. ArenaMend's flagship products are ArenaGreen, a complete footing solution, and Noviun, a premium natural fiber for renewing performance surfaces.
About NFW
NFW (Natural Fiber Welding) is a material science innovation company giving industries plastic-free solutions to create responsibly. NFW invents and manufactures shockingly sustainable materials from nature, displacing petrochemical-based synthetics. Using only naturally circular ingredients to create high-performance, biobased textiles, foam, composites, and more, NFW is changing our material reality for good. NFW was founded in 2015 and is based in Peoria, Illinois.