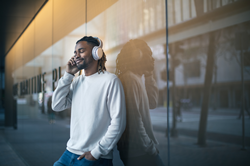 SAN JOSE, Calif. (PRWEB) March 13, 2023
Nowadays, many of us are constantly on the go. Whether working remotely from a cafe, commuting to the office, or even just taking a stroll or grabbing a bite to eat, our daily lives tend to lead us out… and about… and everywhere in between. Avantree, a global provider of unique audio solutions, has crafted the perfect complement to our multitasking lives: a pair of headphones that can be used however, wherever you need – the Eon.
The Avantree Eon truly shines in its versatility. You can use it in 4 different "modes" – wirelessly with a mic, wirelessly without a mic, wired with a mic, and wired without a mic. Taking a conference call from home? A wired connection ensures a stable connection while your voice is transmitted clearly through the detachable boom mic. Jamming to some tunes on your way to dinner? Listen wire-free and hassle-free with just the headphones. The possibilities are endless, especially with the Eon's long list of contributive features. Better yet, these headphones' earpads, headband, and rechargeable batteries are all replaceable, effectively increasing its lifespan and saving a few trees in the process.
"We hope the Eon takes the lead in ushering in a new era of multifunctional, long-lasting, and environmentally-friendly headphones," states Howard Leung, Avantree CPO. "Today, product lifespans are becoming shorter and shorter, and as a result, electronic waste is increasing every year. We want to buck this trend. With the Eon, users will have headphones that they can use in practically any scenario – it's no longer necessary to buy multiple headphones for different purposes. All of the Eon's parts that are subject to wear and tear are also easily replaceable, so users don't have to worry about wearing out their earpads or their headbands or counting charging cycles before their battery loses its ability to recharge. These headphones are designed from the ground up to last for a long time."
Different situations elicit different needs – needs that the Eon is well-equipped to handle. Cutting-edge hybrid active noise canceling technology helps to block out ambient noise for an immersive experience, while a transparency mode lets you easily interact with your surroundings. The detachable boom mic's environmental noise cancellation utilizes the most advanced microphone-array based algorithm so only your voice is transmitted, and sidetone allows you to monitor your own voice. You can connect to two different devices at once and swap easily between the two, and no matter what you're listening to, you'll be sure to enjoy premium audio with 40mm drivers and a wider-than-average sound range with deeper low-end frequencies.
The Avantree Eon is available for pre-order now at a discounted price of $89.99. For more information, please visit the Avantree Eon page.
About Avantree: Avantree's mission is to present everyone with audio solutions that focus not just on "surviving," but thriving. With products that offer users a multitude of unique audio experiences, such as social listening options and customized hearing profiles, Avantree aims to meet consumers right where they're at by designing devices that not only provide high-quality sound, but that also satisfy user needs.