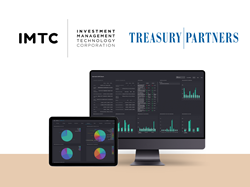 "We are very pleased with IMTC's technology, which allows us to more effectively manage client bond portfolios and enables us to deliver increased customization and improved outcomes for clients." – Richard Saperstein
NEW YORK (PRWEB) March 15, 2023
IMTC, a leading provider of fixed income investment management technology, announced that Treasury Partners, a prominent wealth management firm with $22 billion in assets under management, has adopted IMTC's technology for its fixed income portfolio management team.
"We are very pleased with IMTC's technology, which allows us to more effectively manage client bond portfolios and enables us to deliver increased customization and improved outcomes for clients. We're committed to utilizing the necessary tools and technology needed to deliver the highest quality portfolio management services to clients," said Richard Saperstein, Managing Director, Principal and Chief Investment Officer, Treasury Partners. Mr. Saperstein has been recognized as a Barron's top wealth advisor for 19 consecutive years.
IMTC's fixed income management platform is a seamless portfolio management system that enables portfolio managers to manage client bond portfolios all in one place. The platform is equipped with hyper-specific customization through IMTC's compliance module, comprehensive analytical tools, real-time end-to-end execution, and complete CRM integration. With a platform that connects to all required inputs and data sources, including the major custodial houses, IMTC users are able to manage fixed income portfolios for their clients more effectively and with less operational risk.
"We're proud to partner with Treasury Partners by providing technology that makes the investment process more efficient and customized, which leads to better client outcomes," said, Russell Feldman, CEO, IMTC. "It's been a pleasure to work with Richard and his team. Their desire to implement an interconnected, cloud-native solution is a strong indicator as to how our industry is evolving."
For more information on IMTC's platform and technology, please visit: https://imtc.com/demo/
About IMTC
New York-based IMTC is a SaaS-based enterprise fintech provider that is fundamentally changing the way asset and wealth management firms manage fixed income assets for their clients. IMTC's cloud-based investment management system (IMS) optimizes portfolios with a speed and accuracy that's never been before possible, leading to improved performance and lower cost at scale. Found out more at http://www.imtc.com and on LinkedIn
About Treasury Partners
Based in New York City, Treasury Partners is a team of 29 investment professionals delivering a broad array of wealth and corporate cash management services to private investors, family offices, foundations, endowments, and corporations. Treasury Partners is registered with Hightower Securities, LLC, member FINRA and SIPC & Hightower Advisors, LLC a registered investment advisor with the SEC. Visit http://www.treasurypartners.com. Hightower Advisors, LLC is an SEC registered investment advisor. Securities offered through Hightower Securities, LLC. Member FINRA/SIPC.