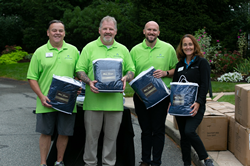 "It is inspiring to see One Company Fund supporters continue to open their hearts and their wallets to those facing unforeseen challenges." -Tom Grape, founder, chairman and CEO of Benchmark
WALTHAM, Mass. (PRWEB) March 15, 2023
The Benchmark One Company Fund, a non-profit which provides grants to Benchmark Senior Living employees in times of need, reports that its associate and corporate donations increased by more than 41 percent to $667,000 in 2022.
The One Company Fund is a senior living industry first launched in 2008 to give financial assistance to those who provide Benchmark residents with excellent care and experiences.
"The fact that donations increased so dramatically – despite a turbulent economic environment – speaks to the generosity and commitment our associates and corporate sponsors have to supporting the individuals who care for and bring so much happiness to our residents," said Tom Grape, CEO and chairman of Benchmark. "It is inspiring to see One Company Fund supporters continue to open their hearts and their wallets to those facing unforeseen challenges."
Last year, the Fund gave $325,000 in grants to associates who couldn't purchase the necessities of life or meet financial demands created by an emergency.
Rosie Belizaire, CNA, a widow who for nine years has cared for residents at Evans Park at Newton Corner, was one of many associates who benefited from the Fund when a fire destroyed her home.
"Everything was gone. Through the Fund, I was able to access $6,750 to get me settled into a new apartment. My children and I were so happy. If it wasn't for the Fund's help again, I don't know what I would have done," said Belizaire, who had previously accessed the Fund several years ago to help family in her native Haiti following the earthquake and hurricane.
The One Company Fund was also there for Jim Salley, the director of dining services at The Atrium at Rocky Hill for over three years. In 2001, he was diagnosed with esophageal cancer. As a chef who loves food, he was devastated. "It's the worst thing that could've happened to me," he said.
The Fund gave him $9,000 to cover out-of-pocket medical expenses.
"The One Company Fund is underestimated. In a million years, I never thought I would get cancer. People overlook it because they don't think something will happen to them. You never know what could happen," said Salley, who is now cancer-free.
Since the Fund launched 15 years ago, it has raised over $6 million and given $3.2 million in associate grants to those affected by natural disasters, personal tragedies and other unexpected challenges.
Click here for more information about the Benchmark One Company Fund.
# # #
About Benchmark Senior Living
Benchmark is New England's largest senior living provider with 64 independent living, assisted living, memory care and continuing care communities and over 5,000 dedicated associates providing compassionate care and outstanding experiences throughout the Northeast. The Waltham, Mass.-based company was founded over 25 years ago by Tom Grape with the purpose of Transforming Lives Through Human Connection. Since then, Benchmark has continued to set the industry standard, having won over a hundred local, regional and national awards for its care, programs and as a top workplace. Benchmark has been named one of the Top Places to Work for 15 straight years in The Boston Globe's annual employee-based survey and received repeated recognition in FORTUNE's Best Workplaces for Aging Services list. For more information, visit BenchmarkSeniorLiving.com.