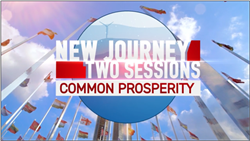 WASHINGTON (PRWEB) March 14, 2023
China's modernization, innovation and economic strength have been engines of global growth. At the Two Sessions this year – known to the world as China's political season - the Government Work Report laid out clear parameters to maintain stability and achieve pragmatic economic goals in the face of global headwinds.
China's new journey began after the 20th National Congress of the Communist Party of China (CPC) put forward specific growth targets last year triggering a global conversation about China's development and its impact on the world.
Our special program discusses the Work Report as well as China's policies that are contributing to Common Prosperity inspired by President Xi Jinping's vision of building a community with a shared future for humanity.
We hear from three keynote speakers. Mozambique's foreign minister Verónica Macamo spoke about the growing relationship with China, and its economic benefits for the people of her country and across the African continent. Pakistan's foreign minister Bilawal Bhutto Zardari was positive about the bilateral ties between Beijing and Islamabad. And Hungary's Minister of Foreign Affairs Péter Szijjártó praised the Belt and Road Initiative and thanked China for helping his country with vaccines during COVID.
A high-profile panel then discussed the positive effect of China's industrialization and innovation around the world, particularly in developing countries.
Former Chilean ambassador to China, Jorge Heine detailed how Chinese trade with Latin America and its investments in the region bolstered economies and lifted people out of poverty.
Ebrahim Rasool, South Africa's ambassador to the U.S. from 2010-2015, said China's engagement with Africa helped the continent's economic recovery from COVID. And Beijing-based analyst Henry Huiyao Wang spoke about China's contribution to global development.
Additionally, viewers will hear from two more experts. Hamid Rashid, Head, Global Economic Monitoring at the UN underlined the importance of China's economic recovery for the rest of the world. And a former officer with the UN Environment Program, Oliver Hillel, lauded the Chinese government's inclusive and non-colonial approach to global governance.
At a time of global uncertainty, CCTV UN seeks context, perspective, and solutions. Check out our coverage online and on television.
Link: https://newsus.cgtn.com/news/2023-03-14/China-s-path-to-modernization-Common-prosperity-for-the-world-1iaG8xJekCY/index.html
(This material is distributed by MediaLinks TV, LLC on behalf of CCTV. Additional information is available at the Department of Justice, Washington, D.C.)