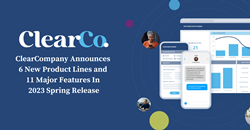 No other HR software on the market is bringing the entire employee experience and talent management strategy together like ClearCompany.
BOSTON (PRWEB) April 10, 2023
ClearCompany, the talent management platform that empowers HR to maximize talent throughout the employee lifecycle, today announced the release of six new products and eleven enhancements to its end-to-end platform. ClearCompany creates clarity across the talent spectrum, unifying people, process, and platform so every company can empower employees to reach their full potential and achieve talent maximization. These new products and features help further that mission and expand the platform's already unparalleled, natively-built experience. The new product lineup includes:
Compensation Benchmarking allows users to automatically compare market rates and ensure salaries are fair and competitive directly inside of ClearCompany.
Data Lake for BI Reporting powered by Snowflake allows users to connect their business intelligence tool of choice directly to ClearCompany to gain powerful insights across every stage of the employee journey.
Mass Employee Texting enables HR to send announcements and important information to employees via text, streamlining contact with employees for general or emergency purposes.
Recruiting CRM gives recruiters the ability to consistently nurture their Talent Communities to increase hiring success and efficiency through powerful CRM features such as drip campaigns.
Company Culture Career Sites leverage ClearCompany's unique understanding of company mission, vision, values, and team structure so that recruiters can showcase the people in their company to potential candidates to increase the quality of applicant and applicant flow.
ENPS Surveys give HR practitioners instant access to employee engagement levels.
All of these releases are built on top of ClearCompany's modern platform. ClearCompany's upcoming releases also include these other exceptional new capabilities:
Support for global contingent hiring and payments
Streamlined self-service interview scheduling
Quality of Referrer (QoR) tool
AI-powered job descriptions
Expansion of Background Checks by ClearCompany to 180 countries
Candidate reference checks
Integration with Salesforce for automated goal updates
New categories and weighting options for goals
Integration with company calendars to track 1:1 meetings for managers
Platform:

Workforce Planning enhancements to help users know when to hire
Automated executive reporting digest emails
"Companies are increasingly frustrated by having to work across multiple products to manage a talent strategy," said ClearCompany President and Co-Founder Colin Kingsbury. "ClearCompany is the only talent management software that enables HR to strategize, execute people initiatives and build culture deliberately on one platform. Our newest products and features support that vision, empowering our clients to maximize their employee talent to achieve success."
"No other HR software on the market is bringing the entire employee experience and talent management strategy together like ClearCompany, and no one else is delivering on that promise to clients so quickly and in such an innovative way," said ClearCompany CEO and Co-Founder Andre Lavoie. "We're confident that with the release of each new product and feature, we're providing unprecedented value for our clients and setting a new standard for the industry."
As the leading Talent Management platform, ClearCompany releases regular product updates and feature enhancements to enable its clients to maximize their employees' talent. Talent Maximization is achieved when HR has the tools and strategies needed to plan accurately, execute people initiatives flawlessly, and build culture deliberately. ClearCompany believes in maximizing talent because when people succeed, companies succeed.
About ClearCompany
Since 2004, ClearCompany's full-spectrum Talent Management platform has enabled thousands of companies to maximize talent by empowering people at every stage of the employee journey. ClearCompany integrates data-driven best practices, expert-informed content, and tailored software tools to recruit, ramp, recognize, and retain employees, uniting people and processes to achieve business success.