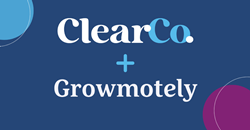 Through this exclusive partnership with Growmotely, ClearCompany will become the only provider with a global talent pool for contingent hiring.
BOSTON (PRWEB) April 14, 2023
ClearCompany, the talent management platform that empowers HR to maximize talent throughout the employee lifecycle, today announced a strategic investment in Growmotely, the only global marketplace for professional talent seeking longer-term, remote opportunities. Through this exclusive partnership, ClearCompany will become the only provider with a global talent pool for contingent hiring at a time when the demand for flexible workforces is at an all-time high.
ClearCompany users will be able to increase candidate flow by 2-3x with access to an integrated talent pool of over 30,000 active global contingent professionals. Growmotely's payment solution for contingent work also enables payments to users in virtually every country outside of the U.S., allowing clients to reduce payroll costs by 40-70% for key roles. Uniquely, Growmotely has a focus on culture-matching candidates with opportunities and has been a prominent player in pushing the remote work movement forward since its launch in 2021.
"By joining forces with Growmotely, ClearCompany is again leading the way in providing businesses with innovative solutions to meet the rising challenges of today's employment landscape," said ClearCompany CEO and Co-Founder Andre Lavoie. "With 30% of employees now working on a contingent basis, this partnership presents a unique opportunity for clients to take advantage of a global talent pool and build a more flexible, diverse, and efficient workforce."
"We're incredibly excited about this partnership, as it means bringing many more work opportunities to our growing global community of remote professionals," said Sarah Hawley, CEO and Founder of Growmotely. "ClearCompany are leaders in the HR space and progressive thinkers, so it's a natural fit for us to integrate with them and be a new resource to their clients who're already embracing the benefits of remote work."
With this joint offering, ClearCompany provides its clients with an integrated solution for building and managing a global contingent workforce. Access to the Growmotely talent pool will be provided at no additional cost to ClearCompany clients, making it a highly attractive solution for businesses looking to expand their workforce and reduce payroll costs.
About ClearCompany
Since 2004, ClearCompany's full-spectrum Talent Management platform has enabled thousands of companies to maximize talent by empowering people at every stage of the employee journey. ClearCompany integrates data-driven best practices, expert-informed content, and tailored software tools to recruit, ramp, recognize, and retain employees, uniting people and processes to achieve business success.