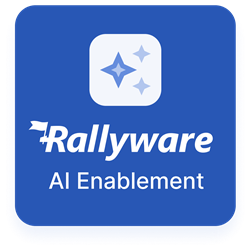 Rallyware harnesses the context and substance of the distributors' ad hoc requests to automatically project the most powerful, personalized, and suitable growth path for each specific user.
MOUNTAIN VIEW, Calif. (PRWEB) April 18, 2023
In a notable expansion of their smart technologies, Rallyware, the Performance Enablement Platform for large distributed sales forces, proudly announces the introduction of generative artificial intelligence (AI) to their technology.
This breakthrough in field Performance Enablement technology makes it possible, even easy, for each distributor to become a selling powerhouse from day one. Rallyware's Chat Agent, like a personal assistant, is always available to support the distributor, taking the guesswork away from the process of independent business building while bringing direct selling firmly into the AI age.
Ultimately, the introduction of this distributor-facing AI-enabled Chat Agent is anticipated to change both how direct selling companies operate and what distributors expect from these companies, giving way to a fully transformed distributor experience fit for the future.
AI-Enabled Chat Agent
Overall, Rallyware's semantic search-enabled Chat Agent speaks with uplines and downlines alike to help them become more effective and proactive, to make more sales and grow their business in a hyper efficient way.
In building the Chat Agent, Rallyware used the fourth generation of the GPT (Generative Pre-Trained Transformer) LLM (Large Language Modeling) AI model. The result is the preeminent AI-enabled tool for direct selling, being built not only on intelligent technologies but also decades of performance data, making the Chat Agent highly knowledgeable about this unique and fast-moving vertical.
Over digital chat, distributors can engage in conversations with the Chat Agent about topics like product specifics, sales pitches, customer experiences, and more. The Chat Agent's semantic capabilities, along with years of performance enablement data, help it determine the context of the query to reply with the relevant content nearly instantly, with speed, accuracy, and efficiency unmatched by a live representative.
This Chat Agent provides textual answers based on natural language processing. Yet its capabilities go far beyond this.
Rallyware harnesses the context and substance of the distributors' ad hoc requests to automatically project the most powerful, personalized, and suitable growth path for each specific user. As such, the Chat Agent will suggest smart activities informed by live performance data, personal goals, and the company's previously modeled top seller behaviors; context-based sales strategies; and business-building tactics particular to each distributor's path, calibrated to connect with them and drive performance.
In this manner, the Chat Agent not only helps the distributor "know" what their next action should be, but presents the tool that will allow them to perform this action. In this way it is not just a "chatbot," but a smart personal assistant, remembering the individual distributor's ad hoc requests over time and evolving to suit their goals and needs with every use.
How the Chat Agent Works
When interacting with distributors, the Chat Agent will have gleaned the relevant contextual information from a large database of knowledge specific to the company.
Any company that rolls out the Chat Agent to its field will connect the agent with that company's specific product, training, campaign, compliance, and other information, providing the Chat Agent a basis from which to conduct a dialogue with the distributors. At the same time, in conversations with distributors, the Chat Agent uses advanced semantic search capabilities to determine the context of the individual's queries and concerns.
On this basis the Chat Agent provides "just-in-case" learnings, as described above–actions, strategies, aids, and more that apply to the particular case the distributor is facing right now. This intelligent framework builds on Rallyware's already-existing "just-in-time" smart activities, which drive upskilling for distributors based on the actions they should take right now.
In terms of tone, the Chat Agent has been built to speak in a friendly, direct manner to lead the distributor toward their goal–with text-based replies, but also with visualized, interactive elements that guide the distributor intelligently to successful sales and business growth.
All at once, Rallyware's Chat Agent cuts out tedious knowledge searching, impresses distributors with an easy user experience, and creates the most effective field possible, forever altering what distributors expect and deserve from direct selling companies, and evolving field operations going into the future.
Rallyware CEO Comments
"With this AI expansion, Rallyware is proud to be redefining the next generation of technology for field Performance Enablement," says George Elfond, Rallyware's CEO and Co-Founder.
"Today, leading direct selling enterprises must acquire and implement the most advanced technology to empower their field and outdo their competitors in a crowded, complex gig-driven market—and be prepared to react at scale, swiftly, to any market changes," he continues. "Being deeply rooted in direct selling, we at Rallyware care about the industry's evolution, success, and continued competitiveness. With this and future innovations, we are enabling direct selling organizations to digitally transform in a meaningful, lasting way."
Rallyware is revolutionizing productivity for the direct selling field with AI that connects learning, engagement, and execution in one smart Performance Enablement Platform ("PEP"). PEP provides personalized pathways to success in a centralized UX for everything from onboarding and training to all necessary daily activities, enabling the right skills and behaviors for every distributor to become a top performer. Learn more here.