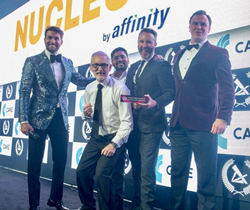 "Receiving 'Best Performance Marketing Innovation' reflects our commitment to making the lives of publishers easier while increasing their revenue." - Lavin Punjabi, co-founder and CEO
CHICAGO (PRWEB) May 19, 2023
Nucleus by Affinity Global Inc., a leading international advertising technology holding company, won "Best Performance Marketing Innovation" at the 17th annual Performance Marketing Awards. The ceremony was held in London on Thursday, May 11, 2023, where the award was bestowed upon Nucleus, Affinity's operating system for commerce publishers, to manage their affiliate operations.
Most commerce publishers operate between 100 to 5,000 merchant relationships across their media properties. Their daily challenge is to optimize which offer will yield the maximum revenue across all of their merchant relationships. Adding to this challenge, most publishers aren't aware they can earn higher revenue if they make multiple networks compete for each of their merchant links. And finally, managing all the operations manually to gain optimum revenue 24x7 is cumbersome and close to impossible.
Nucleus was launched in Q4 2022 to tackle these challenges, and in a short span of time has gained rapid popularity with well-known commerce publishers. The solution intelligently routes merchant clicks to the highest EPC yielding network across multiple pricing models - CPS, CPA, CPC (fixed and variable), CPL and revenue share. Additionally, it centralizes reporting across all types of networks - affiliate networks, sub-networks and CPC networks.
The "Best Performance Marketing Innovation" honor from the Performance Marketing Awards was based not only on Nucleus' unique and innovative technology, but also the results experienced by Vouchercloud. In November 2022, the Groupon Reach Network tested Nucleus on the Groupon Reach Network property with 107 merchants and 10 networks across all devices.
The results of Vouchercloud implementing Nucleus were astounding. Vouchercloud experienced a 35.56 percent increase in revenue within the first two months of its implementation.
"A year into our partnership, the Affinity team introduced us to Nucleus, which caught my attention as a potential solution to maximize our EPCs and provide us with a safety net in case of any tracking issues with a single network," said Mark Andres, head of partnerships at The Groupon Reach Network. "The initial results have been fantastic, increasing our revenue by over 30 percent with the merchants we tested. This is truly exciting, and we plan to rapidly expand the number of brands using Nucleus links throughout the coming year, not only in the UK but in all our territories."
"We would like to thank the Performance Marketing Awards for recognizing and honoring Nucleus' game-changing technology that has the potential to revolutionize the way publishers monetize their merchant links," said Lavin Punjabi, co-founder and CEO of Affinity Global Inc. "Receiving 'Best Performance Marketing Innovation' reflects our commitment to making the lives of publishers easier while increasing their revenue."
About Affinity Global Inc. 
Affinity Global Inc. is an advertising technology holding company that delivers innovative cross-funnel consumer engagement products for both advertisers and publishers. For brands and their agencies, Affinity provides non-standard ad formats and media platforms to deliver both awareness and performance objectives. For publishers, these same media platforms provide unique monetization opportunities from automated SaaS-based products in the display, commerce content and mobile app-install space. One of the fastest growing adtech companies in the world, Affinity's other business units include AdOpsOne, mCanvas, SitePlug, VEVE and YieldSolutions. Affinity is a global company with 350+ employees across the US, UK, Germany, India, Indonesia, China and Brazil. For more information, visit https://affinity.com.
###