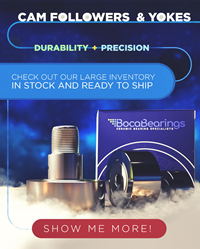 We are confident in meeting the diverse needs of our customers across various industries.
BOYNTON, Fla. (PRWEB) May 25, 2023
The Boca Bearings Company, a leading provider of industrial automation solutions, is thrilled to announce the launch of its new inventory of Cam Followers and Cam Yokes.
"We are excited to introduce our new inventory of cam followers and cam yokes," said Allen Baum, Boca Bearings founder. This exciting addition to our product lineup signifies our commitment to delivering cutting-edge motion control solutions that optimize performance and enhance operational efficiency. Cam followers and Cam Yokes are components commonly used in mechanical systems to convert rotary motion into linear motion, or vice versa. Cam followers are often used in applications where high loads or speeds are present, such as in engines or industrial machinery.
Cam followers and cam yokes play a crucial role in a wide range of industries, including automotive, aerospace, manufacturing, and robotics. These components facilitate smooth and precise motion in various applications, enabling machines to achieve exceptional accuracy, reliability, and durability.
Key Features and Benefits:

Superior Performance: Our cam followers and cam yokes are engineered with meticulous attention to detail, ensuring exceptional performance in even the most demanding environments.
Robust Construction: Designed to withstand rigorous operating conditions, our cam followers and cam yokes are built to last. They are constructed from high-quality materials that offer exceptional strength, corrosion resistance, and longevity, ensuring minimal downtime and maintenance costs.
Versatility: Our inventory of cam followers and cam yokes encompasses a wide range of sizes, and material configurations to suit diverse application requirements.
Technical Expertise: With 36 years of industry experience and a team of skilled experts, Boca Bearings is well-positioned to provide expert guidance and support. We offer comprehensive technical assistance, including product selection, application engineering, and troubleshooting.
"We are confident in meeting the diverse needs of our customers across various industries," remarked Mr. Baum. For more information about our new inventory of cam followers and cam yokes, please visit http://www.bocabearings.com
To learn more about how The Boca Bearings Company can be your industrial partner please call 1-800-332-3256
Contact email: info@bocabearings.com
Webpage: http://www.bocabearings.com