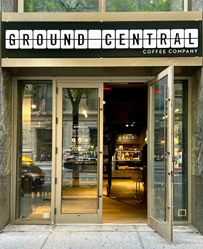 "We're delighted to bring warmth to New Yorkers' daily routines and express our gratitude to our devoted patrons. We invite everyone to visit any of our locations and experience our unique atmosphere for themselves." Etienne Wiik, CEO
NEW YORK (PRWEB) May 25, 2023
Ground Central Coffee Company (GC), Ground Central, a distinctive, independent coffee shop catering to neighborhoods across New York City, is excited to reveal the May 2023 launch of its 10th location at GC Grand Central, situated at 441 Lexington Ave, New York, NY 10017.
In a city filled with generic chain coffee shops, Ground Central stands out as a rare gem. CEO Etienne Wiik has deliberately cultivated a cafe atmosphere that transcends an ordinary coffee experience.
Boasting a vibrant ambiance, expertly-roasted coffee, and a dedication to quality and service, GC has rapidly become a top choice for coffee aficionados citywide. The new GC Grand Central location carries on this tradition, providing patrons with an easily accessible place to enjoy their morning brew, catch up with friends, or accomplish work tasks.
"Our mission has always been clear—foster a sense of community in a welcoming setting that connects enthusiasts of art, music, books, and exceptional coffee. We embarked on this journey with our initial Midtown cafe a decade ago, and now we're eager to introduce the 10th GC at Grand Central!" exclaims Wiik.Ground Central takes pride in serving La Colombe coffee, an esteemed coffee roaster and a frontrunner in the coffee industry. Alongside their premium coffee, GC offers specialty sandwiches from Alidoro, baked delights from The Hungry Gnome, and a variety of locally-sourced sweets, refreshments, specialty beverages, and more. Each GC establishment also presents a carefully curated book selection for sale through their partnership with Huemanbooks, an NYC independent bookstore. Customers are also invited to shop the extensive vinyl collections displayed at every GC."
GC wholeheartedly embraces and respects each individual who enters our space, whether they're stopping by for a moment or lingering for hours," Wiik adds. "We're delighted to bring warmth to New Yorkers' daily routines and express our gratitude to our devoted patrons. We invite everyone to visit any of our locations and experience our unique atmosphere for themselves.
"From a quick caffeine fix during rush hour to a leisurely gathering with friends, Ground Central caters to people from all backgrounds and lifestyles. Visit our newest location at GC Grand Central, 441 Lexington Ave, and immerse yourself in the GC experience.
About Ground Central Coffee Company
Ground Central Coffee Company (GC) is an unparalleled independent coffee shop with 10 locations and counting in NYC. Ground Central serves as a nexus for New Yorkers and a growing community of students, artists, book enthusiasts, and musicians. Each GC team is committed to delivering a uniquely tailored experience while capturing the essence, diversity, and personalities of our city's neighborhoods.
For more information about Ground Central Coffee Company, to explore current employment opportunities, or for directions to our other locations in Midtown East, 6 ½ Ave, UN HQ, Hell's Kitchen, Murray Hill, Lynbrook, the Fashion District, Marsh & McLennan, and now GC Grand Central, please visit groundcentral.com. Connect with us and join the conversation by following @groundcentral!