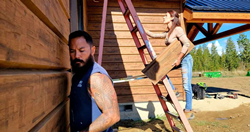 Their dedication to creating a dream home that not only fit their lifestyle but also prioritized safety was truly inspiring.
MISSOULA, Mont. (PRWEB) May 25, 2023
EverLog™ Systems, an industry-leading manufacturer of worry-free, evolutionary concrete log siding, proudly recounts its successful partnership with the inspiring DIY duo, Jeremy & Melissa of Good Simple Living. In a stunning display of innovation and resilience, the family of six built their dream mountain home in North Idaho using EverLog's fire-resistant siding.
Jeremy and Melissa, popular for their YouTube channel, Good Simple Living, were on a mission to build a homeschooling, homesteading haven for their family. Faced with the increasing threat of wildfires in their region, they recognized the need for a safer, more reliable construction material. That's where EverLog™ Systems stepped in.
Upon discovering EverLog's concrete log siding, Jeremy and Melissa were convinced by its superior fire resistance and zero-maintenance requirement. The EverLog™ siding provided a worry-free solution to traditional timber construction and saved them thousands of dollars in long-term upkeep. After carefully choosing the perfect profile and color, they confirmed it was the ideal match for their dream home.
"We were thrilled to partner with Jeremy and Melissa on their journey to building a safer, more sustainable home," said Stewart Hansen, President of EverLog™ Systems. "Their dedication to creating a dream home that not only fit their lifestyle but also prioritized safety was truly inspiring. Our concrete log siding was an excellent match for their needs, and seeing the final result was immensely rewarding."
The collaboration was an exceptional opportunity for both parties. For Good Simple Living, it provided a practical, worry-free, and aesthetically pleasing solution for their dream home build. For EverLog™ Systems, it was a chance to showcase the versatility, durability, and beauty of their product range to a broader audience.
You can relive Jeremy and Melissa's incredible journey on the Good Simple Living YouTube channel, and learn more about the EverLog™ family of products on the EverLog™ Systems website.
EverLog™ Systems remains committed to creating innovative concrete solutions that protect against the elements while embodying the warmth and traditional beauty of wood.
About EverLog™ Systems
EverLog™ Systems is a leading provider of worry-free, concrete log siding. Focused on creating sustainable, fire-resistant home solutions, EverLog™ Systems combines the traditional beauty of timber with the durability of modern materials, ensuring a lifetime of worry-free living.