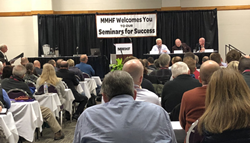 "Dozens of model manufactured homes from our industry partners means the sheer quality on display will be unrivaled."
LOUISVILLE, Ky. (PRWEB) December 07, 2022
The Louisville Manufactured Housing Show, which takes place Jan. 18-20, 2023 at the Kentucky Exposition Center, has announced today its initial lineup of speakers from across the manufactured housing industry.
Hosted in Louisville for over 61 years, The Louisville Show will feature the latest lineup of new homes, products, and services for manufactured housing professionals looking for the greatest innovations the industry has to offer. The event is hosted in partnership with the Midwest Manufactured Housing Federation.
2023's lineup of speakers will include:
-Amy Bliss, Wisconsin Manufactured Housing Association
-Mark Bowersox, Manufactured Housing Institute
-Frank Bowman, Illinois Manufactured Housing Association
-Ramsey Cohen, Clayton Homes
-Wally Comer, Adventure Homes
-Ken Corbin, CallKenCorbin.com
-Eric Coulter, Cavco Industries
-Logan Hanes, Kentucky Manufactured Housing Association
-Darren Krolewski, MHVillage/Datacomp
-John Lindley, Michigan Manufactured Housing Association
-Eric Oaks, Indiana Manufactured Housing Association
-Byron Stroud, Skyline/Champion
"Our return to Louisville will feature dozens of leaders from across manufactured housing," MMHF Chairman Eric Oaks said. "Attendees will get to hear the latest announcements, trends, and industry updates directly from the experts."
Industry professionals can register to attend the event and sign up for event updates and additional speaker announcements at thelouisvilleshow.com.
The event will once again take place at the Kentucky Exposition Center in Louisville, Ky., where attendees can view dozens of the latest model homes — more than any other indoor event in the U.S. — from the top manufacturers in the industry.
"No other industry event in the country has the amount of homes on display that we do," Oaks said. "Dozens of model manufactured homes from our industry partners means the sheer quality on display will be unrivaled."
Manufacturers displaying homes at this year's event include Adventure Homes, Champion Homes, Clayton Homes, Fairmont Homes, Fleetwood Homes, Ritz-Craft, and Skyline Homes.
The Louisville Show is an industry trade event not open to the general public. For more information about the event, visit thelouisvilleshow.com.
Show Produced and Managed by:
Show Ways Unlimited
Trisha Ragoopath-Le, Show Coordinator
(770) 587-3350
About The Midwest Manufactured Housing Federation
The Midwest Manufactured Housing Federation is a trade association dedicated to the promotion and advancement of the manufactured housing industry throughout Illinois, Indiana, Kentucky, Michigan, and Ohio. The Federation holds the Louisville Manufactured Housing Show annually in Louisville, Ky.