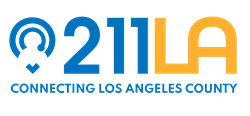 This new logo and brand identity captures our evolution from a phone-centric service to a multifaceted technology hub, while staying true to our commitment to serving all of Los Angeles County's communities, regardless of their situation, language, or technology access
LOS ANGELES (PRWEB) May 19, 2021
211 LA, a locally based nonprofit community resource hub that provides essential information related to health, human and social services to residents of Los Angeles County, today unveiled its new logo, the first phase of a comprehensive brand refresh and expanded technology-based service offering that better aligns the person-centered approach of 211 LA with the evolution and accessibility of communication technologies.
Since its beginnings 40 years ago as InfoLine, 211 LA has consistently evolved and adapted to better suit the needs of its community. While the old logo featuring a telephone handset was a recognizable symbol reminding people of the telephone hotline service - just dial 2-1-1 to get connected to resources - 211 LA today embraces the many different ways people want to communicate, from text to live chat, email to social media, as well as online self-service.
The new brand and logo invokes the values of 211 LA which emphasize inclusivity, connection, and empathy. The geo pin of the icon symbolizes life's journey and 211 LA's role in helping people navigate to the support they need along the way, while the person at the center grounds it in a person-centered approach.
"211 LA is the long time trusted guide to connect you to help when you need it most" said Maribel Marin, Executive Director of 211 LA. "This new logo and brand identity captures our evolution from a phone-centric service to a multifaceted technology hub, while staying true to our commitment to serving all of Los Angeles County's communities, regardless of their situation, language, or technology access."
While the 2-1-1 service is already available via phone (2-1-1), text (52-211), and online chat, email, and self-service via 211la.org, 211 LA will be rolling out additional omnichannel services and self-service options in 2021 to meet people where they're at, provide a seamless experience across communication channels, and provide additional smart options for finding and navigating services in Los Angeles County.
Also, recognizing that a full-service resource hub must also respond to equity and social justice needs, 211 LA has spearheaded innovative programs like Explore Justice, a video series designed to help us unpack and examine the current and historical context that shapes communities' experiences and lives, developed in partnership with the LA Commission on Human Rights, TaskForce PR, and the LA County Community Schools Initiative. The information hub also operates a hotline for the LA vs. Hate campaign, where those witnessing an act of racial hatred or discrimination can report these incidents 24 hours a day in any language by dialing 2-1-1, or by going online to 211la.org/la-vs-hate and using the translate option if necessary. All of this is part of 211 LA's mission of providing essential information and connecting people to services, as those needs evolve.
Download the new logo here.
About 211 LA County
211 LA (or 211 LA County) is the hub for community members and community organizations looking for all types of health, human, and social services in Los Angeles County. We provide information and referrals to the services that best meet individual needs, through our 24 hour 2-1-1 call line, or through our website, text, and chat. A 501(c)(3) nonprofit organization, 211 LA has served the people of Los Angeles County since 1981, when it was formed under the name of The Information and Referral Federation of Los Angeles (also formerly known as InfoLine). 211 LA's services are funded through partnerships with the LA County Board of Supervisors, CEO and Departments; with contracts with the State of California, LAHSA, SoCal Gas, Southern California Edison, AARP, and others; and with grants from foundations including the National Institute of Health (NIH).