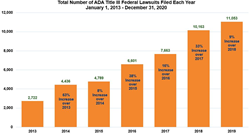 CLEVELAND (PRWEB) September 17, 2020
216digital, is proud to announce the launch of its new website accessibility services. With help from their team of accessibility specialists, online business owners make their websites accessible to disabled users and meet ADA compliance standards.
The accessibility services help online business owners make their web content accessible to disabled site visitors who otherwise would be restricted. Greg McNeil, CEO of 216digital shares that, "It is estimated that 20% of all website traffic is from people with some type of disability. Making websites accessible for everyone is vitally important in these uncertain times."
216digital website accessibility remediation services are divided into two phases. The first phase uses automated scans to reveal 20-30% of website accessibility issues for remediation. Next, phase two involves manual testing with the most popular assistive technologies to identify and remediate issues undetectable by automated testing. To request a free ADA vulnerability scan and learn more about 216digital ADA website accessibility services go to 216digital.com/ada.
216digital is a Cleveland area code and design agency. Over the past 21 years, their team has grown to include professionals in digital strategy, web development, web hosting, SEO, PPC, and social media services. The 216digital team is committed to helping ensure websites are accessible to those with disabilities.
Press Contact:
Greg McNeil
Phone: 1(216) 505-4400 x111
Email: gm@216digital.com