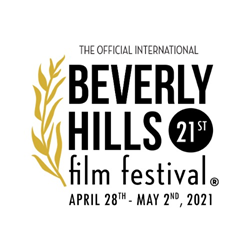 The upside with the new virtual platform is that we are able to screen our official selections to a global audience. We'll also be offering virtual panels and networking events to bring our community together.
BEVERLY HILLS, Calif. (PRWEB) April 16, 2021
The 21st Annual International Beverly Hills Film Festival® (BHFF) is proud to announce its first-ever virtual edition, which is livestreaming 155 official selections globally via the fest's site, beverlyhillsfilmfestival.com and powered by Eventive, from April 28 – May 2, 2021. Actor Cary Hiroyuki Tagawa ("The Last Emperor," "Man in the High Castle," "Mortal Kombat," "Rising Sun") is being honored with BHFF Legends Award, and filmmakers are vying for Jury and Audience Awards, including the fest's top honor, the Golden Palm Award. The Annual Screenwriting Competition also hosts over 100 finalists. Honors will be presented during a Live Virtual Awards Ceremony on May 2nd.
Festival president, Nino Simone, says, "It was heartbreaking to have last year's momentous 20th Anniversary edition of the festival shut down due to the pandemic. We've always been proud to host an international event, hosting filmmakers from the four corners of the world. The upside with the new virtual platform is that we are able to screen our official selections to a global audience. We'll also be offering virtual panels and networking events to bring our community together."
The fest is renowned for its annual onsite Opening Night Red Carpet Gala and 5-days of Premieres, Screenings, Panels, Parties and Closing Ceremony Awards Gala. Despite the shutdown and not being able to present Audience Awards, BHFF20 was still able to remotely bestow Jury Awards for last year's official selections, including: director Cam Cowan's "Opeka" (Golden Palm Award); director Derek Wayne Johnson for "Stallone: Frank, That Is," starring Frank Stallone" (Best Documentary) and "40 Years of Rocky," starring Sylvester Stallone (Best Short Documentary); William Baldwin for "Talk" (Best Actor); and "Josie & Jack" winning Best Director for Sarah Lancaster and Best Actress for the film's star Olivia DeJonge.
This year's line-up features an incredible selection of impactful films across multiple genres, representing 25+ countries, including: "The Final Fix," narrated by Ewan McGregor; "T&A: Love & Sex," directed by and starring Thomas Jane and starring, written and produced by Anne Heche; "The Clown without a Mask" with Joseph Gordon-Levitt; "Hard Work," directed by Julie Pacino; "Code Karim" from Italian director Federico Alotto; and "Forbidden to See Us Scream in Tehran" from Iranian director Farbod Ardebeli.
BHFF Jury members this year include: Jury president, the award-winning producer Frederico Lapenda; Oscar-winning screenwriter & producer Nick Vallelonga ("Green Book"); Wonderfilm founding producer Kirk Shaw ("Moose," starring John Travolta, "Primal," starring Nic Cage); Roberta Augusto, Senior VP of Marketing, Distribution & Publicity at IDC, a Lionsgate Company ("LaLa Land," "The Twilight Saga," "The Hunger Games"); Emmy-winning producer Nate Thomas (PBS' "The Last of the One Night Stands," "East of Hope Street"); film and music video director Brett Leonard ("Lawnmower Man," IMAX's "T-Rex," "Virtuosity"); veteran actor John Posey ("Selena," "Criminal Minds," "Teen Wolf"); Australian actor Costas Mandylor ("Saw" franchise); talent and literary agent Amy Lord (partner, Eris); and marketing strategist Gary Shapiro (former senior VP marketing, Sony Pictures, and a member of The Academy of Motion Picture Arts and Sciences).
Past recipients of the BHFF Legends Award include: producer Mike Medavoy; actor Jon Voight, actress Ann Archer, cinematographer Haskell Wexler, producer Frank Yablans, and "Rat Pack" photographer Phil Stern.
Over the years, other VIPs that have attended the festival include: Gary Oldman, Danny Devito, Rhea Perlman, Jonathan Mayer, Bob Saget, John Stamos, Andie MacDowell, Martin Landau, Anne Heche, Djimon Honsou, Candace Cameron Bure, Seth Green, Angie Everhart, Rutger Hauer, Billy Zane, Anton Yelchin, Steven R. McQueen, Kelli LeBrock, Hector Elizondo, Dash Mihok, Leslie Zemeckis, Laila Ali, and Dominique Swain, just to name a few.
Online Screening passes are available now for the pre-sale price of $13 per ticket and $100 for an All Access VIP Pass, which includes all screenings, panels and the Awards Presentation.
Visit beverlyhillsfilmfestival.com for a complete line-up of the 2021 official selections, to secure tickets and livestream the films.
About BHFF
The annual International Beverly Hills Film Festival was founded in 2001 by award-winning independent filmmaker Nino Simone. The 21st annual event, taking place virtually from April 28 through May 2, 2021, is dedicated to showcasing and promoting non-studio films to the entertainment industry. Designed to bridge the world of premiere independent cinema with Hollywood, the festival hosts online screenings, networking events and industry seminars.
###
Website: beverlyhillsfilmfestival.com
Film Guide: https://bhff2021.eventive.org/films
Facebook: facebook.com/thebhfilmfest
Twitter: twitter.com/thebhfilmfest
Instagram: instagram.com/thebhfilmfest