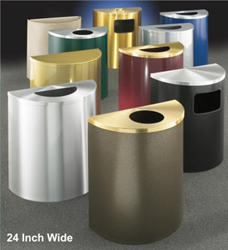 This expansion makes Glaro Inc. the exclusive manufacturer of the largest half round receptacle in the industry.
Hauppauge, NY (PRWEB) January 26, 2015
As of January 1, 2015 American manufacturer Glaro Inc. is offering a new product line: 24" wide low profile half round waste and ash/trash receptacles. This expansion makes Glaro Inc. the exclusive manufacturer of the largest half round receptacle in the industry.
According to Executive Vice President Robert Betensky, "Space saving, all metal receptacles are high in demand. In Glaro Inc.'s case, 18" wide receptacles were so popular that Glaro Inc. was compelled to add an even larger capacity model. A 24" model made a 29 gallon capacity possible, simultaneously giving facility managers a larger size model to place strategically throughout their facilities."
The new line is ideal for use in rest rooms, corridors, entrance and exits, vending machine areas, health clubs, by elevators, in hallways, against columns, and other spaces where traffic is busier and space is at a premium. To accommodate these diverse environments, floor standing and wall mounted receptacles are available. Decorative metal bands can also be purchased for 18" wide models.
Known for its upscale look, this line is available with a choice of 31 all weather painted and metal finishes. Customers can customize receptacles with optional silk screened logos and messages. They can also specify different color choices for the covers and the bodies if they wish.
The all-metal construction, including a standard steel inner liner can (except for the open top model) ensures a level of fire safety that facility managers value. They also come standard with a concealed piano hinged lid for ease of maintenance. "These are some of the line's distinct features that we developed in response to market demands," says Mr. Betensky. The open top model has no liner or hinged cover. These models meet strict ADA requirements, making them accessible for all building visitors.
For more information, download a full brochure here: http://glaro.com/half-round-waste-receptacles.html. Dealers interested in more information can call Glaro Inc. at 888-234-1050 or write to info(at)glaro(dot)com. Glaro Inc. is currently taking orders.
About Glaro
Glaro Inc., a New York based company, manufactures product lines including bellman and luggage carts, platform trucks, metal trash receptacles, smokers' posts and receptacles, crowd control posts and systems, safety barriers, signs, sign frames, directories, menu display stands, coat hanging equipment, coat trees, indoor umbrella holders, wet umbrella bag stands, metal planters, and key drop boxes. The company recently launched a line of disinfecting wipe dispensers, FDA approved wipes and coordinating receptacles. As of January 2015, both 18" and 24" wide half round receptacles are available.