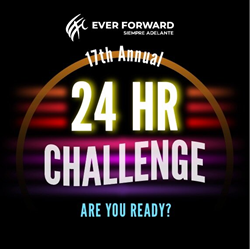 I wanted to provide a support group for African American and Latino males who were not achieving their true potential.
OAKLAND, Calif. (PRWEB) May 26, 2021
The Ever Forward Club, the nonprofit organization that is building character and changing lives, is proud to announce the 17th Annual 24-Hour Challenge. This 24 hour virtual fundraising event will take place May 29 through May 30, 2021, starting at 10 a.m. PST.
The 24-Hour Challenge is adapted from their typical fundraising relay, which is a Memorial Day tradition in the Bay area. This community event brings together people of all ages and abilities to have fun and raise money for The Ever Forward Club. This year, they have partnered with other organizations including; Soul Shoppe, Bay Area Mural Project and E3.
"This is the major fundraising project that benefits student programs to help motivate students to achieve their goals and improve their communities, and it also shows them that they can have fun without drugs, alcohol, and tobacco," said a spokesperson for the 24 Challenge Relay. "This year we are going live and raising money for 24 hours to support the #MillionMaskMovement"
The 24-Hour Challenge will be streamed live on YouTube. Donations are welcome through Tiltify. From 10 am until noon, the Ever Forward Club will celebrate 17 years with testimonials, trivia, and tele-fun. The 24 community challenges will begin at noon.
The 24-Challenge Relay will begin with a community challenge. Other challenges will include brain teasers, art and creative prompts, cooking, fitness, watersports, and silly fun. There will be 24 challenges that you can do alone or with a team.
Ashanti Branch founded the Ever Forward Club in 2004. Raised by a single mother on welfare in Oakland, Branch took the road less traveled to move past his situation. After studying civil engineering at California Polytechnic–San Luis Obispo and working as a construction project manager, Branch realized his true passion while tutoring struggling students on the side. After changing careers, Branch started The Ever Forward Club in his first year as a teacher.
"I wanted to provide a support group for African American and Latino males who were not achieving their true potential." Since then, The Ever Forward Club has grown to serve both young men and women and has become a 501(c)3 nonprofit organization. The Ever Forward Club has helped 100 percent of its members graduate high school, and 93 percent of them have gone on to attend college," Branch said.
The Ever Forward Club takes a fourfold approach to developing community. They focus on academic development by providing support, advisors, and biweekly progress reports. They focus on community development through team-building and emphasizing the importance of public service both at school and in their neighborhoods. They focus on personal development through goal-setting workshops, mentorships, and emotional learning. Finally, they focus on family development through family potlucks, parent focus groups, and parent service projects.
For more information about The Ever Forward Club, visit everforwardclub.org. For more information about the 24-Hour Challenge, follow the event on Instagram, Facebook, and Twitter @everforwardclub. To register for the 24 Challenge, visit https://everforwardclub.org/24-hour-relay-challenge-2021.