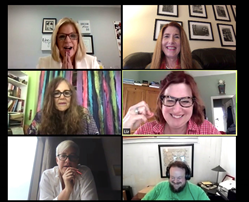 With billions on social media every day and technology advancing at warp speed, it can be a challenge to manage both personal and business brands online. To offer insights, the 25th Annual Women in Technology Summit Marketing Panel will lead a lively digital marketing debate. ~ Liz H Kelly, Goody PR
SANTA MONICA, Calif. (PRWEB) June 12, 2019
During the 25th Annual Women in Technology Summit (June 9-11, 2019) next week in San Jose, California, the Marketing Panel, 352 - Marketers: Intrusive or Productive? (Tuesday, June 11, 1:30-2:30pm) will debate hot topics such as whether AI, Google and Facebook data gathering and facial recognition are making things worse or better? During this special 3-day summit hosted by WITI (Women In Technology International), over 1700 women and men from around the world will converge in Silicon Valley to build relationships, collaborate, and update their technical and leadership skills.
This interactive panel discussion will be moderated by Liz Dubelman (Column Marketing Group and Author) with marketing industry leaders, including: Bonita Banducci (Gender and Engineering, Santa Clara University), Valerie Hoecke (Chief Digital Officer, LVMH Perfumes and Cosmetics), Liz H Kelly (Goody PR Founder and Author of "8-Second PR") and Christopher Smith (VP, Engineering, Ticketmaster).
With billions on social media every day and technology advancing at warp speed, it can be a challenge to keep up and manage both personal and business brands online. To offer insights, this global Marketing panel will lead a lively discussion on these topics:
1. What is marketing, and how does personation play a role?
2. How is digital marketing different in China?
3. Do new tools (machine learning, AI), who claim to know who you are, help or hurt?
4. Does it matter who is writing the algorithm?
5. How can you establish your personal brand through marketing, PR and multiple social media platforms (LinkedIn, Twitter, Facebook, Instagram YouTube)?
6. What are the benefits of using organic versus paid social media?
7. What are the best ways to deal with disinformation online?
8. How is facial recognition changing the digital landscape?
Marketing Panelists will include:
Liz Dubelman @vidlit (Moderator, Column Marketing Group and Author) is currently a partner at Column Agency, specializing in content marketing. She is the founder of VidLit.com, a site dedicated to connecting authors to their audiences using social media and artist communities. She has conceived and executed 400 marketing/promotion campaigns.
Bonita Banducci @BonitaBanducci (Lecturer, Gender and Engineering, Santa Clara University, Institute for Women's Leadership) was named one of 100 Women of Influence of Silicon Valley by the 2014 Silicon Valley Business Journal 2014. Bonita Banducci is a coach, consultant, author, trainer and mentor, and university faculty member. She adds a powerful dimension to the development of men's and women's leadership through her Gender Competence and RISE methodology.
Valerie Hoecke @vhoecke (Chief Digital Officer, LVMH Perfumes and Cosmetics) is busy accelerating digital growth across 14 diverse brands globally with digital excellence across all areas of communications, ecommerce, and e-retail. Ms. Hoecke has deep roots in digital innovation and strategy. She spent eight years as the EVP of Digital for Benefit Cosmetics, building a global digital program for the brand that included communication, messaging, and selling channels.
Liz H Kelly @lizhkelly (Goody PR Founder and Author of 8-Second PR) is passionate about magnifying brands, experts, and causes through marketing, PR, and social media campaigns with a WOW story. After working for Fox Interactive Media/Myspace, Paramount Pictures, Sprint PCS, and LA startups, Kelly started Goody PR in 2008 as a boutique marketing agency. Kelly also teaches digital marketing at UCLA Extension and is a Social Media Club Los Angeles Board Member.
Christopher Smith @xcbsmith (VP Engineering, Ticketmaster) is a Data Scientist and game changer, who has worked for Google, Yahoo, FOX Audience Network, The Rubicon Project, and other technology leaders.
ABOUT THE MARKETING PANEL:
352 - Marketers: Intrusive or Productive?
When does marketing get to know you a little TOO well? Do you feel misunderstood by the algorithms in your life? Platforms like Google and Facebook are making billions claiming they know who you are, but to what extent are they helping you (or hurting you) make sense of the world? As we become more aware of gender bias in AI and Machine Learning, it's time to discuss how marketers might be making things worse by asserting outmoded personas and inflexible social norms.
https://www.witi.com/conferences/2019/summit/events-lightbox.php?id=1362
For more information about this Women In Technology Summit follow @WITI and #WITISummit.
ABOUT WITI (Women In Technology International)
WITI's mission is to empower women worldwide to achieve unimagined possibilities and transformations through technology, leadership and economic prosperity. With a global network of smart, talented women and a market reach exceeding 2 million, WITI has powerful programs and partnerships that provide connections, resources, opportunities and a supportive environment of women committed to helping each other. Since 1989, WITI has delivered value for women working in companies, government, or academia, and for small business owners. Build. Empower. Inspire. https://www.witi.com/about/