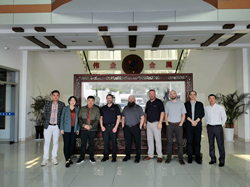 SHANGHAI (PRWEB) November 04, 2019
Last week, on the 25th of October, a large woodworking tools company came to China from the United States. The US based company has been helping woodworkers create with confidence since 1954. They have a team of hundreds of experienced woodworkers, and aim to bring woodwork knowledge to the masses.
Their main aim was to see how they could outsource their machine tool manufacturing to improve their supply chain and lower costs whilst maintaining quality. They were interested in the manufacturing of several parts such as a corner key, a box joint, and a dusk bucket. Haizol was an obvious choice, being experts in machining and creating top quality parts. Haizol's focus on customer satisfaction and communication means they go through each project with a fine tooth comb to ensure total understanding before production. On receiving the designs, a team of engineers check them thoroughly, confirming details with the customer before production. Haizol sees transparency as a key factor in outsourcing, and their customers appreciate the importance placed on this.
Haizol showed their customers around factories that fit their project criteria and specialised in the right manufacturing processes. They saw first-hand how the factories operated, and evaluated previous customer projects. The customer learnt how Haizol can fulfil supply chain integration, and can consolidate shipping for them.
About HAIZOL
Headquartered in Shanghai, HAIZOL was founded in 2015 and was initially funded by the Haier Group of Companies, a market share leader for major appliances and consumer electronics. HAIZOL is one of the largest online OEM manufacturers in the world, specializing in CNC Machining, Die Casting, Injection Molding, Casting, Mold Making, Fabrication, and Metal Stamping. Follow Haizol on LinkedIn today to keep up with the latest news.