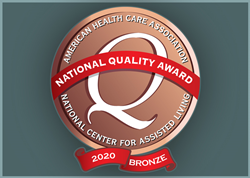 This awards illustrates the commitment that our communities have in providing individualized, compassionate care to our residents and further demonstrates their focus on continuous quality improvement.
BOURBONNAIS, Ill. (PRWEB) August 26, 2020
26 Gardant-managed communities received the 2020 AHCA/NCAL National Quality Award at the Bronze – Commitment to Quality Award level.
Belvedere Senior Housing
Cambridge House of Swansea
Evergreen Village at Bloomington
Glasswater Creek of Lafayette
Hellenic Senior Living of Indianapolis
Hellenic Senior Living of New Albany
Heritage Woods of Batavia
Heritage Woods of Belvidere
Heritage Woods of Benton
Heritage Woods of Centralia
Heritage Woods of Charleston
Heritage Woods of DeKalb
Heritage Woods of Dwight
Heritage Woods of Freeport
Heritage Woods of Huntley
Heritage Woods of Manteno
Heritage Woods of Minooka
Heritage Woods of Moline
Heritage Woods of Mt. Vernon
Heritage Woods of Plainfield
Heritage Woods of South Elgin
Heritage Woods of Yorkville
St. Anthony of Lansing
The Lodge at Summers Pointe
White Oaks at Heritage Woods of South Elgin
White Oaks at Spring Street
The American Health Care Association and National Center for Assisted Living (AHCA/NCAL) National Quality Award Program is a progressive, three-step process that recognizes long-term care providers that have demonstrated a commitment to improving the quality of care for seniors and individuals with disabilities. Each progressive step requires a more detailed, more comprehensive demonstration of quality integration and performance.
To qualify, Gardant communities began the quality improvement process by assessing their mission, characteristics and key challenges while also demonstrating an ability to implement performance improvement plans. The Bronze Award recognizes those providers for developing a foundation to begin a continuous journey of quality improvement.
"We are extremely proud of the accomplishment of a large portion of our portfolio receiving NCAL's Bronze Quality Award this year," says Rod Burkett, CEO of Gardant Management Solutions. "This recognition is due to the dedicated efforts provided by the staff and management teams at these communities throughout the year, and it is indicative of their dedication to serving our residents and committing to ongoing quality improvement. We are extremely thankful every day for their compassion and dedication!"
Heritage Woods of Rockford and John Evans of Pekin were awarded the Bronze National Quality Award in 2019 and are still in active status at that level.
For more information about the Bronze Award, click here.
https://www.ahcancal.org/quality_improvement/quality_award/Pages/default.aspx