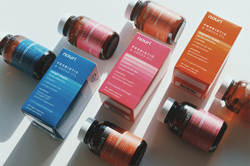 "We seek to educate individuals and encourage them to join the Nouri mission and take a proactive approach to their personal gut health." Caroline Beckman, CEO / Founder, Nouri
ATLANTA (PRWEB) February 11, 2020
Inspired by her own battle with immunodeficiency, CEO and Founder of Nouri, Caroline Beckman, has made it her mission to deliver gut health solutions that empower individuals to take a proactive approach to their health. Today, Nouri announced that Whole Foods Market shares and supports this mission, as the newest Nouri Probiotics are now available nationwide at Whole Foods locations.
Today, over one billion people worldwide are suffering from gut-related diseases. This problem costs America more than $136 billion dollars a year to treat, more than heart disease, trauma, or mental illness. According to a national survey, 74% of the population is living with gut ailments and only half ever report them to their doctors.
Tackling such a large-scale issue and entering an already crowded category is inspiring for Beckman, a 26-year-old former Vice President at Suja Juice. "Nouri is dedicated to two core elements that set us apart and ensure we deliver results to our consumers: science-backed solutions and transparent labeling," said Beckman. Consumers believe they can manage their health by taking vitamins and supplements, but probiotics can be most effective for addressing gut health and Nouri exists to fill that space within the rapidly growing gut health market.
Beckman adds, "Like Whole Foods, it is the mission of Nouri to offer high-quality products with superior standards which guide all aspects of our business. We seek to educate individuals and encourage them to join the Nouri mission and take a proactive approach to their personal gut health."
The first of Nouri's product family at Whole Foods includes: Digestive Health, Women's Health, and Weight Health. Nouri's first consumer product line delivers science-supported proprietary probiotic blends encapsulated within plant-based omegas 3,6, and 9 (Ahiflower oil). All capsules have a hint of orange taste.
All three Nouri products offer digestive and immune support with foundational probiotic strains. Additionally, each product has its own special focus and intended benefit. Digestive Health contains additional probiotic strains to further support digestion. Women's Health, with its pink-hued capsules, features whole cranberry powder to support urinary tract health and probiotic strains to support vaginal health. Weight Health features a probiotic "superstrain," Lactobacillus gasseri BNR-17, that supports healthy weight management.
Nouri probiotics are now available at all Whole Foods locations nationwide and online at https://dailynouri.com
About Nouri
Caroline Beckman launched Nouri to deliver gut health solutions that empower individuals to take a proactive approach to their health. With a dedication to science and transparency, Nouri continues to develop solutions that advance consumer health, starting within the gut and radiating outwards. Nouri is the first in the world to deliver a two-in-one capsule containing probiotics and plant-based omega oil. To read more about the company and products please email hello@dailynouri.com and visit https://dailynouri.com/