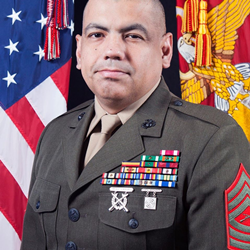 "We are so fortunate to be able to cultivate strong partnerships with national brands, non-profits, and local military communities to make each makeover better than the next."- Mark Alfieri, Founder and CEO of BrandStar
DEERFIELD BEACH, Fla. (PRWEB) August 14, 2020
In true Military Makeover style, host Montel Williams, cast and crew, special guest WWE Superstar Lacey Evans, and equally passionate national brands have come together again to serve those who have served. Marine Corps Veteran Marcelino Marquez along with his family will be the recipients of a beautifully renovated home among other items of gratitude. The first of five (5) episodes airs on August 21st at 7:30am EST. All aired episodes can be viewed at militarymakeover.tv.
Marcelino Marquez enlisted out of high school and rose to one of the highest enlisted ranks of Master Gunnery Sergeant. Marcelino deployed on two tours in Iraq, two tours in Afghanistan, along with many other challenging postings. He started as an infantryman, then became a mortar man before shifting from mortars to close air support as a Low Altitude Air Defense (LAAD) Gunner. Marcelino later transitioned into Mortuary Affairs where he was tasked with the search, recovery, identification, preparation and return to the US of American and American-allied personnel killed in action. Those final emotionally wrenching assignments have left him suffering from post-traumatic stress disorder (PTSD). Marcelino with his wife Francis, and three children, have been selected as our new Military Makeover family.
The Military Makeover team partners up with likeminded brands with a similar mission to help veterans such as our ongoing sponsors: Goodman Manufacturing, ABC Supply Co, MyComputerCareer, Tarkett and CaptionCall. This process also involves local businesses in the community and invites volunteers to step up and lend a hand in support of the Marquez family throughout the renovation process. Special guest WWE Superstar Lacey Evans, a veteran of the U.S. Marines, makes an appearance and supports the Marquez family throughout the renovation process. The final reveal unites cast, brand partners and volunteers, creating a literal "community celebration" of support for the change they created together.
"In the nearly three decades since I retired from the Navy, I've never really taken the uniform off because standing up for those who are serving now and those who have served has been the greatest honor of my professional career." - Montel Williams, Host and Co-Executive Producer
"We are so fortunate to be able to cultivate strong partnerships with national brands, non-profits, and local military communities to make each makeover better than the next."- Mark Alfieri, Founder and CEO of BrandStar
Military Makeover with Montel®, A BrandStar Original, is America's Leading Branded Reality TV Show that offers hope and a helping hand here on the home front to members of our military and their loved ones. A veteran of both the Marine Corps and the Navy, talk show legend and military advocate Montel Williams, who creatively co-produces the show along with a colorful cast that seeks to transform the homes and lives of military families across the country. The cast includes co-host Art Edmonds, designer Jennifer Bertrand and contractor Ryan Stanley. This special series enlists caring companies of all sizes as well as non-profits and the local community. Military Makeover airs on Lifetime® and on the American Forces Network which serves American servicemen and women, Department of Defense and other U.S. government civilians and their families stationed at bases overseas, as well as U.S. Navy ships at sea. Help starts at home for veterans on Military Makeover. Join us as our makeover team engages to change the living situation – and the lives – of these deserving families.
Military Makeover Press Kit: Here
Season 23 Air Dates on Lifetime
7:30am EST
August 21 – Episode 1
August 28 – Episode 2
September 4 – Episode 3
September 11 – Episode 4
September 18 – Episode 5