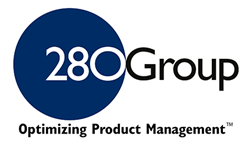 LOS GATOS, Calif. (PRWEB) May 15, 2019
280 Group, the world's leading Product Management training and consulting firm, today announced the release of its comprehensive report assessing the skill-level of Product Managers worldwide. The assessment aimed to better understand the skill levels of Product Managers across 15 dimensions and how they correlate to experience, job title, training, product process, industry, region, and other factors.
After compiling the results of over 1,650 Product Management individuals and leaders, 280 Group uncovered six key findings. Of the findings, training and process stand out as key factors that drive Product Managers and Product Management leaders to higher skill levels.
Establishing a formal product process is the single biggest practice that Product Management leaders can implement to improve their team's abilities. There is a strong relationship between the degree of formal product process and a Product Manager's confidence in their skills in the context of that process. Improvement in skills reaches over 31% when comparing Product Managers who work at an organization with a formal process versus those that don't. This shows how much an improved Product Management process can lead to teams with stronger skills.
"Organizations that have implemented and use a formal product process combined with training for their team show significant gains in the weakest skill areas as identified in this report. 280 Group offers the only training to help Product Managers learn the Optimal Product Process™, the leading Product Management process based on an international standard," said Rina Vernovskaya, Chief Executive Officer at 280 Group. "We also offer an Optimization Program that identifies process gaps to develop custom training solutions that help organizations achieve the best improvements in the areas they need most."
The Benchmark found that over 50% of Product Management leaders have formal training. It further revealed that those leaders exhibit skills 51-61% higher than individual contributors. This shows that training is key to not only stronger Product Management skills but attaining leadership roles.
The Benchmark report provides many additional insights and 280 Group encourages Product Managers and their leaders to learn more by downloading the Product Management Skills - Benchmark Report.
280 Group has made the skills assessment publicly available to Product Managers everywhere. Upon completion of the assessment, 280 Group sends a personalized report that compares the Product Manager's skills against the Benchmark skill levels of Product Managers worldwide. It also provides specific recommendations on how to improve in the weakest skill sets.
ABOUT 280 GROUP
280 Group is the world's leading Product Management training and consulting firm. We help companies and individuals do GREAT Product Management and Product Marketing using our Optimal Product Process™. We have been in business for 20 years and serve clients around the world. Our headquarters is located in Silicon Valley, CA and we are named after the famous Highway 280, a corridor that houses the world's most innovative companies and links San Francisco and the South Bay Area. Our products and services include consulting, contractors, training, certifications, recruiting, templates, coaching, books and a Product Management optimization program. More information about 280 Group can be found at 280group.com.
For additional information, contact Roger Snyder contact(at)280group.com.