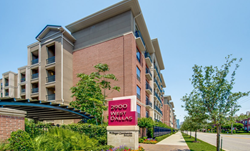 HOUSTON (PRWEB) May 21, 2020
2900 West Dallas is a Houston luxury apartment that continues to see immense growth and loyalty from residents, thanks in part to their ideal Houston location.
The Montrose apartment community was developed, built, and managed by Houston real estate icon Marvy Finger of the Finger Companies, who has been profiled numerous times in the Houston Chronicle in regards to his business acumen. Understanding that location is the key to successful multi-family real estate, Finger builds his communities on the idea of "Main and Main," which continues to prove as the highest selling point for apartment renters.
Though these Montrose apartments aren't technically built on Houston's Main Street a few miles away in downtown Houston, the concept of a central and convenient location rings true. The Montrose apartments are located directly next door to Montrose Whole Foods Market, across the street from the newly revitalized Buffalo Bayou Park, minutes from River Oaks, and walking distance to some of Houston's best restaurants. These apartments near the Medical Center are 4-miles from the Texas Medical Center (TMC), the largest medical center in the world and the 8th largest business district in the U.S.
Location is especially key in a city like Houston, which ranks as the 9th worst traffic congestion in the U.S., according to the 2019 Urban Mobility Report. Quick and convenient access to grocery stores, restaurants and nearby highways is a top criterion for Houstonians when searching for apartments and homes, which is why Marvy Finger and his apartment communities are always at the top of many apartment hunters' wish list.
And it's clear the residents love the location of 2900 West Dallas Montrose apartments as well. With above average retention rates and many original residents still living at the community, many have attributed their loyalty and lease renewals to the premier Houston location. The Montrose apartments have a Google rating of 4.5 with more than 150 reviews, with a high percentage talking about the Whole Foods next door location, as well as the proximity to Buffalo Bayou Park, and quick access to downtown Houston and TMC.
About The Finger Companies
Under the leadership of veteran developer Marvy Finger – whose 60-year plus track record speaks for itself – the Finger Companies has earned an undisputed reputation as the leading independent developer of luxury apartment homes in the country for one reason: unwavering commitment to excellence. With a visionary knack for finding the best locations, the Houston, Texas-based company has led the industry in the highest quality construction, cutting edge design, lush landscaping, envelope-pushing amenities, and unparalleled property management for six decades. 2900 West Dallas Montrose Apartments are owned and operated by The Finger Companies.