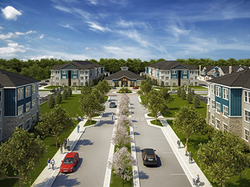 "Our strategy at PointOne Holdings is to provide our residents high-quality communities, with best-of-market amenities at great value. Newnan Crossing embodies this vision and strategy, and we couldn't be more proud of the outcome." -Leo Peicher, Principal at PointOne Holdings.
ATLANTA (PRWEB) October 02, 2019
Promenade at Newnan Crossing development, a Class-A 298-unit multi-family project is now open to the public.
Located in the metro Atlanta city of Newnan, Georgia, the development— a product of a partnership between South Florida-based firm PointOne Holdings,Novare Group and Batson-Cook Development Company— inaugurated earlier this month.
The rental properties include one, two- and three- bedroom units as well as townhomes with garages. The residences are built on a 24- acre gated community that includes a high-end resident clubroom, state-of-the-art fitness center, resort-style pool, area for outdoor grilling and a dog park.
Promenade at Newnan Crossing is part of Village Square at Newnan Crossing, a 123-acre mixed-use development connecting offices, retail and walking trails at the intersection of Newnan Crossing Boulevard East and Lower Fayetteville Road in Newnan. The community provides residents with a truly walkable, interconnected community containing an exciting mixture of retail, office, restaurant and residential space.
"An important component of our strategy at PointOne Holdings is to provide our residents high-quality communities, with best-of-market amenities at great value," said Leo Peicher, Principal at PointOne Holdings. "Newnan Crossing embodies this vision and strategy, and we couldn't be more proud of the outcome." The location also offers direct access to the I-85 interstate corridor as well as convenient access to approximately 1.7 million square feet of grocery, retail and dining and entertainment space including two marquee shopping centers; the Forum at Ashley Park and the Newnan Pavilion.
"We are excited to open the doors of Promenade at Newnan Crossing," said Jim Borders, President and CEO, Novare Group. "It has many homes facing the promenade and others facing wide-open green spaces and public lawns. Unique to this market are the 'manor-style' residences, which offer residents direct access private garages. With other market-leading amenities, our partnership has delivered a community we are proud of for our residents and a great addition to Newnan."
Newnan is also in close proximity to Atlanta, which ranks tenth in US GDP and top 5 in Fortune 500 headquarters. Further contributing to the job growth and economic prosperity, the city has seen the relocation of US headquarters for Mercedes Benz as well as the development of large employment centers for both State Farm and Google.
About PointOne Holdings:
PointOne Holdings Development is a real estate investment firm headquartered in South Florida and Atlanta with properties located throughout the Southeastern United States and Texas. The firm owns and manages a diversified portfolio of residential and commercial assets valued in excess of $730 million. PointOne Holdings' principals are seasoned professionals with over 40 years of combined experience who have collectively conducted over $1.9 billion in real estate transactions.
About Novare Group:
Novare Group is a leading developer of innovative mixed-use communities in the Sunbelt region. The company has overseen over $3.5 billion of real estate development and investment since its founding by Jim Borders in 1992. In 2002, the company delivered its first high-rise development, Metropolis, which has been widely credited with sparking residential demand that helped transform Midtown Atlanta into the vibrant neighborhood that it is today. The Company has continued to focus its activity on high-rise mixed-use communities and has built eighteen SkyHouse® branded communities, a rapid build efficient high-rise concept that was a result of prior experience and observations in development and construction. In 2017, Novare Group began executing on suburban garden style and town center developments, some with other development firms in its Novare Development Resources division, and some with its internal development teams. Altogether, the Company has developed over 16,000 multifamily units in 51 communities in Alexandria, VA; Athens, GA; Atlanta, GA; Augusta, GA; Austin, TX; Birmingham, AL; Charlotte, NC; Chattanooga, TN; Dallas, TX; Denver, CO; Frisco, TX; Houston, TX; Lawrenceville, GA; Nashville, TN; Newnan, GA; Orlando, FL; Raleigh, NC; Tallahassee, FL and Tampa, FL.
About BCDC:
Founded in 1963, Batson-Cook Development Company is a fully integrated real estate organization providing development and capital solutions, primarily through partnerships on commercial real estate projects in the Southeastern United States. Based in Atlanta, Georgia, BCDC offers a wide variety of real estate services from development and construction to equity and credit enhancements, to brokerage and property management. It is a wholly-owned subsidiary of Kajima USA.