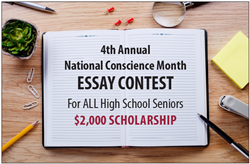 "Teaching students today how to use the infinite wisdom of their CONSCIENCE as a source of creativity, wisdom and energy is not simply a good idea––it is a dire necessity." - Leonard Perlmutter (Ram Lev)
AVERILL PARK, N.Y. (PRWEB) November 01, 2022
The American Meditation Institute's 4th Annual National Conscience Month Essay Contest will award a $2,000 scholarship for the best essay that clearly explains how the author used (or ignored) the wisdom of their brilliant Conscience in a decision-making process. This annual contest is open to all high school seniors throughout the United States, and the award is to be applied toward the student's higher education costs.
Students face remarkable pressure every day that is aggravated by the relentless onslaught of information from mobile devices, cable news, emails, texts, and social media feeds. As a result, they move and react at a faster pace than ever before, while their capacity to make discriminating choices remains elusive.
According to Leonard Perlmutter (Ram Lev), originator of National Conscience Month and author of the new book, YOUR CONSCIENCE, "At present there is no educational curriculum focused on teaching students exactly how the mind makes decisions, and how to use the Conscience as a practical resource in this process. This national essay contest for teenagers at a critical moment in their personal development, will establish an awareness of the positive value of regularly experimenting with using their Conscience as a trusted guide to know how to choose their thoughts, words, and actions."
High school seniors can enter the scholarship contest now, and submissions will be accepted through January 29, 2023. The contest winner will be announced the first week in February, 2023.
The mission of National Conscience Month is to foster a national conversation that inspires individuals of all ages and political affiliations, governments, school systems, faith leaders, non-profits, community organizations, corporations, believers, atheists, and agnostics across the world to experiment with using their Conscience in choosing their thoughts, words, and deeds. This month-long observance is the perfect time to clarify our individual and collective vision by using the Conscience as an inspired and trustworthy guide to making better decisions that can resolve all of life's challenges.
About the American Meditation Institute
The American Meditation Institute is a 501(c)3 non-profit educational organization devoted to the teaching and practice of Yoga Science, Philosophy, and Psychology. Its core curriculum for optimizing the Conscience is contained in the AMI Meditation® Foundation Course. Taught continually since 1996, this syllabus has been certified in 2008 by the American Medical Association for Physician Continuing Medical Education credits. AMI also publishes "Transformation" a quarterly journal of Yoga Science as Holistic Mind/Body Medicine.
Media Contact:
Robert Washington
60 Garner Road
Averill Park, NY 12018
Tel: 518.674.8714
Fax: 518.674.8714